The Road Towards 40- An Homage to Each Decade (10-20)
This road we are now on gets to transition, and transition in a big way.  My life has these very distinct chapters if you will, and on my 10th year my mom married Ray, who is still my step-father, (they made it!!!) and Mayberry turned into Little House on the Prairie.  Well, okay, so it wasn't anything like that, but it was a cool transition.
These 4 blogs are about gratitude. Good memories. Reflections of things that shape me at this point in my life. I have a narrative that could be very different in telling my tale, but a one sentence reminder on each blog to share that this week, today specifically I am looking back and doing some thank you's. I believe it heals us, helps us, and allows us to be our best daily when thank you and gratitude is part of our existence.
So the retired IBM executive who looked like a semi-polished mountain man when I met him, had just under 400 acres, 3 ponds, and it was a mile drive from the country paved road, that was 2 miles from the little town I'd go to school at.  Our farm was about half way between Noel and Southwest City, MO.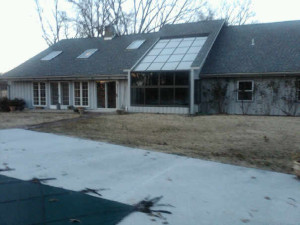 Despite my insecurity and anxiety and being very shy, my insides were cool and comfortable in most settings, I just didn't express it like my 5 year old wonder child. LOL. I observed way more, and internalized it, she is full on observe and interact.  Listen, the farm was amazing.
My mom would  see this part different, but I don't.  He had pulled a trailer (mobile home they are called) up to the hole in the ground that would be the house you see today. I suspect stories vary but it was supposed to be done in a few years.  I had a tiny room in that trailer, but as an only child on a big farm it was just interesting to me. New, right! What I loved the most was the 4 wheeler I got! Yep, a horse or a 4-wheeler was the barter to seal the deal on landing my mom. (Ha!) I later in life regretted the decision, but as you now know  the story Sunniva and life  brought me to horses and the magic in healing me. was powerful  I now can not imagine a life without horses in it.
But, that 4 wheeler and me in 1985 went places. We went EVERYWHERE! There was not just the 360 acres, but thousands in the area. I could find my way down to my friend Matt Thornton's via back trail roads and with the 4 wheeler I could really get anywhere.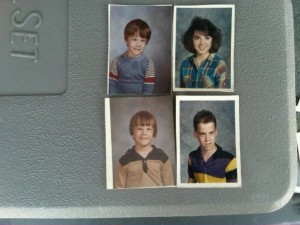 I had a bus route!!! A long one! I had never been on a bus!! Mr Blue was my driver, and to this day I remember details of him.  He'd slam the breaks on a particular unruly day and we'd sit there until the kids got down to a normal level. Mostly I sat quiet to the side, and observed.
I found my friends quickly. You have to remember I was ten so girls were a big part of why I thought I was alive. Noel had new girls and from my limited perspective, lots of them!
It was sort of a big deal to switch baseball teams and 5th grade is the first year back then you started basketball. The slab that now houses the huge garage was my basketball court all through school, and if not in the woods, I was with my basketball.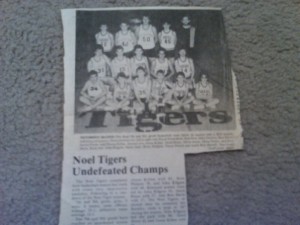 I remember practicing until dinner every night. I remember doing drills in the living room, I remember watching TV and practicing the rotation of my shot..how it came off my fingers. Yep, at 10 I had found my obsession.
School came and the friends I had were amazing! I knew several from driving over to church. If you know this area, you know it's not that big, so while a new town it wasn't too far away.
Our basketball team was my existence and our coach was …well, intense.  Lots of tears man. He had what may likely be said today in the political correct tone some anger issues. LOL. At ten he seemed very old, or older, but looking back he was not. He was a father figure to me.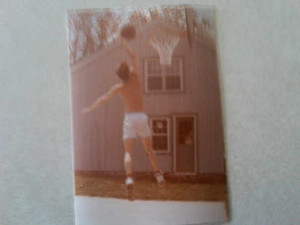 "Ritter" as I was known in the sports world was a good player. I knew that discipline and practice could make my natural skills better. What I faced as I aged was real social anxiety, something I didn't know how to talk about and there are reasons it emerged, but not for this blog.
I was happy, I was a fun kid to be around I think. I knew I was not like all the other kids per se' and had dreams of living in NYC to just see and feel "more" but I embraced what I had.
I stayed a lot at my friend John's.  I remember when we could drive pushing down the lane my Volkswaggon Jetta backwards so we could drive around the county at night just being boys. Innocent times, but good memories. I think a right of passage we all go through.
School was easy. Too easy. I was using every ounce of my energy in this era on two things. Basketball, girls, and maybe friends. Not being an only child my mom was great at letting friends travel with us (yep, nearly every trip we took I got to choose someone to come with me, looking back that was wicked cool of her)
Our 5th grade team lost many games, and we needed structure. I was the point guard and a leader of this team in some ways, but a very quiet leader. I knew how to run a floor and while out there it was as if nothing mattered.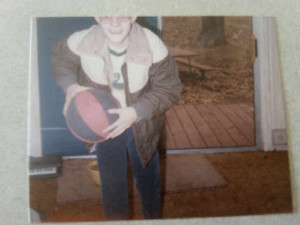 Memories from this era are campouts at my house, church camps in the summer that again, were about…girls, not god.  We had fun just getting away. I went to canoe camp. And by the 7th grade I showed signs of being good at science and my mom (I think) let me sign up and apply to go to Space Camp in Huntsville Alabama.
This was one of the coolest weeks of my life. My "team" that was part of the shuttle crew was from Brooklyn, New York, Idaho, Florida, etc. All over the US! My first real taste of varying opinions, accents, and I LOVED IT! I loved it! It was a fun week, that somewhere I hope the vhs still exists showing the production they put together of your team. Anti-gravity, space food, rocket propulsion and more were part of that week.  It was fun to fly on a plane by myself to!
By our 8th grade year, that coach and our team went on to be 20-0 and one every tournament we entered. Southwest Missouri had great teams and one paper compared us to Webb City, MO as the best in that region. A compliment to a rag tag team from a town of 1200 people.  But I was taught to practice, play hard, focus, and have fun.
What my coach wrote in my 8th grade annual brought tears to my eyes. My friends comments were somehow relevant today. "I love you dearly and you may be the oddest guy I ever knew!" "Thanks for the advice on my relationship" Yep, I found it fun then as I do know to mess with people, and with a theater soul I was making people laugh and doing bizarre things just to get that side of me used b/c theater was not talked about in my house. No real actors, other than my uncle Frank who was in the Wizard of Oz.  I had fun, and evidently helped some along the way.
I'm grateful for those years. Holly, Jennifer, Silver, John, Matt, Travis and I had a blast. There were 21 in my graduating 8th grade class. I was scholar athlete. Life was good.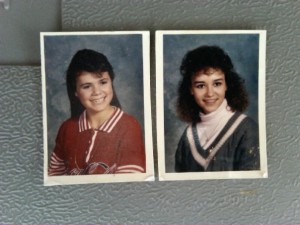 I want to thank my coach Kim Harrel for shaping my life. I was really sensitive, but he crossed no boundaries other than maybe not harnessing his passion but you know what, all of us today remember him as a remarkable man and he led a team of boys to a title.
High school I have to reach a bit to find gratitude. I started realizing I was a square peg in a round hole early, so my MO was to get through it was quietly as possible and find your groove. School was easy, again, and not challenging.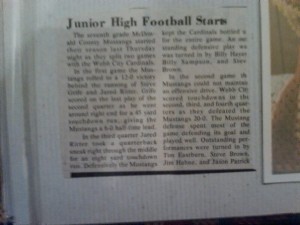 My good memories are having Jeremy Burr and other stay over during school nights and our prank calls and laughs.  With no siblings, my mom was aware that the move to a big farm had both pros and cons and isolation was a con so she opened up friends to come almost anytime.
I also stayed at Matt's house, or Jeremy's many nights. And man are those nights I can still laugh hard at today. I had a girlfriend every year of high school as was the case for me, and just sort of lived in my little safety clique and had as much fun as I can.
Business competitions got me on the bus to the big city of Joplin, golf team, football (7-10th) track in junior high, and basketball again was my life.
I had teachers I loved, the mat teacher and business teacher and english teacher stand out. If I ever publish a book, then Mrs Garrison and my typing teach both will get some props.
Yeah, this was the decade of moving from Mayberry to larger things. Albeit small in worldly views, but at ten your view is so small. I loved the vastness of the lands. I loved my grandparents and the trips I spoke of in the first decade slowed down b/c of summer sports but were still there.
My last year of high school was a mix of National Honor Society nerd stuff and skipping school on Friday's to go to the mall in Springfield with Jeremy Burr.
Yeah, I loved those guys. Jeremy and I spent half our nights together. The "party nights" where I grew up were finding a dirt road and a bon fire that someone had set up.
I think it was my first taste of "love" although at 39 I look back at early girlfriends and think I was such a young boy!
I was active in the local Methodist church, mainly because my friends went there. Youth group was fun b/c we got to play hoops, ping pong, and go cool summer camps.
I also want to say the value I got and memories I now like, but hated then, were the work put into the house you'll see now. That 3 year window turned into 8 and needless to say my mom was less than thrilled. All of the oak, and stone was brought in from our farm or neighboring.  This house is strong and very "native' if you will. I am grateful for the chores of scraping wet cement each day after basketball practice even though I HATED IT then, because it taught me detail work. I taught me to see the value of what doing something can lead to (our business is a great example and my pace today/investment of time for something greater)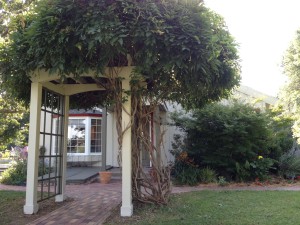 Helping him chop wood, mend fence, dig by hand the foundation of our house were things I'd cuss under my breath but appreciated deeply once I got into my 30's.
I remember Christmas time with my grandparents still alive being magical. Thanksgiving was magical. They were this unbreakable pair that through it all, made the foundation of our family so strong. My great grandma was still alive most of this decade and our gatherings were filled with 4 generations.
In 1992 I took my top ten class ranking, ACT score, scholarship, AND RAN to the Fayetteville campus. It was time to escape. I was not repressed at all energetically by my mom. In fact she didn't lead my thinking on views one way or the other. I was not forced to church, I liked the social aspect of it and it likely seeded my deep spiritual sense or at least made sure I knew to channel it. (Even if that meant it was outside Christianity)
I am grateful for safe neighborhoods, good friends, my grandparents, summer camps, nature, fishing, and most importantly basketball.
The first two years of my U of A life was not far from the end of HS. A bit of skipping class, a lot of interest in new people, and cultures and loving the large classes and fascinating topics.
I was a good boy who still lived with child hood friend those first two years at both Pomfret Hall and Chestnut Apartments.
Yeah, the more I think as I type the more memories.  MERP (middle earth role playing) with my friend Aaron consumed me as well. I had a Vanyar elf that was the bee's knees. I had so many laughs, SO MANY with my friends.
My mom bought a a video store and our house was finally finished right as I left for college we got to live in this unique place I'm proud to say is "home" when I visit my parents at their Zen farm…..and that is a cool milestone!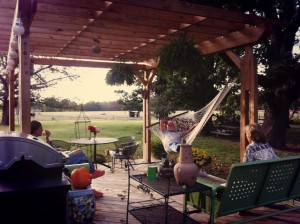 The last two decades coming will be easier to remember and this is a walk through my life in tiny, tiny doses and I"m forgetting a lot so just know it's a free flow exercise that brings me smiles.
Please follow and like us: