"The Journey – One Week In. "
I think one of the most powerful things about physical changes is, for me at least, the mental and spiritual changes that come with it.
It doesn't take a data mining expert in a computer lab writing a super script to sift through my years of journal's and see that when I was doing yoga regularly, running, hiking, biking, or whatever my passion or accessibility was at the time, that when I was right in the body, the mind and spirit in my case shift back into what I call the "Centered State of Being." The maintaining of that is what everyone struggles with and works towards. Some exercise too much and spend too little time on meditation or spiritual work, some likely spend too much time in the intellectual space of books and learning and forget one or the other, there is a deep desire to find balance and work towards it with grace for myself along this road we call life.
As a fairly gifted athlete during the early years of my life and again in my 20's with a burst of outdoor sports I grew to love, I think even with the best wisdom passed your way (and I've had plenty) you think you'll hold onto something forever without the new added work it takes along the way.
It's too early and I don't have enough time to look up some studies, but something like an extra 10% per year output is needed to break even, so to speak, from the age of 30 on.
During the early 2000's during my peak fitness years where part of my job was being an avid cyclist, hiker, runner…was just going through the training process of what it takes to be ready for a 36 hour adventure race.
Even while completing a few half marathons, I have never done a full. But during that year on a morning "training run" we did what is called White Rock Classic where you essentially run 25K up a mountain or 50K and run back down it. I was in some of the best shape of my life, and so good that I didn't even think of it the next morning. I had a shift at work that afternoon, a normal early rise training run in my mind.
I remember we were running late and jumped out of the car with an apple in stride to hit this unique, no fees, no frills, test of will.
I cam in 96th looking at the results today, but I finished it.  http://www.arkansasrunner.com/archives/results2002/wrm02.htm
Here is a description of that race for any local readers who want a challenge in the winter; I would suggest you make this run.
http://www.runarkansas.com/WhiteRockClassic.htm (Looks to only be a 50K now not a 25 and 50K.  Elevation:  Gain 3,749 feet, Loss 3,767 feet.  Min elevation 1,932 ft., max.elevation 2,423 feet.
Damn…I was literally picking my leg up the last mile and moving each leg. NOT BECAUSE IT WAS JUST OVER 16 MILES, because we would do a smooth 12 every Friday, but because it was UP A MOUNTAIN. LOL
I share that because I think in my mind for sure, and likely most athletes, you never forget your farthest run, your capabilities to achieve and perform things that seem difficult as the years pass.  I also look back and see that 16.7 miles had me under 11 minute mile paces and that was up a mountain for 3 hours so my mind today doesn't want to forget those things.
As I said in the last blog leading into this project I'm calling "The Journey" I am a pretty cross country mountain bike rider by genetics (balance, agility, body shape, etc.) but I am NOT a born runner other than I love what it does for me. Let me repeat I am not a born runner at all.  My body frame is just not suited to ever compete, but I like the race and training aspects and running is always about your own journey.
I think every period I ran a half I had no mountain bike available to me or I would not have done it, and I don't believe in coincidences because even though I'd ride a bike ANY DAY before running there is something special about it.
Let me sum up my week for you now.  Oh. My God. I knew going in the first two weeks would be less than fun, but vital to get the wheels on the bus spinning again.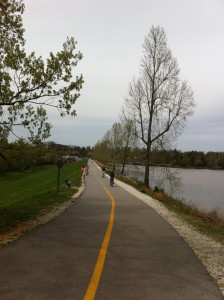 In case there are new readers I dislocated my kneecap on the ice on Christmas Eve with a training pack on as I was preparing then for steady work.  Life just keeps throwing things in front of you to force you to listen to your body, be patient, and learn and injuries and setbacks have been the hardest as I age.  This is where I have to be smarter as a runner, to avoid injury and channel the turtle.
So many things struck me as I move from officially an out of shape guy into a training program for 20 weeks.  I followed the plan to the T this week (first two to three weeks are easy lead ins as I chose "Couch Potato to Marathon" option in my training program.  One day it was sunny and in the high 70's and maybe my second run? Whatever the case the hills of Fayetteville and the heat that I had not seen much of in Europe for a year left me going
"How does one so easily let themselves slip back a few steps?" The body seems to retreat with damning fashion in my case if I, in this case because of the injury, had to not be on it with much weight for 8 weeks and careful the next month as the risk of re-injury is so high.
The answer is easy. It's something I'm not alone in trying to work on as many of my former athlete friends all struggle with finding balance in their activity/eating/etc. as we age. We used to have to consume 10,000 calories a day at some points and your body can get used to that and it takes time to find the middle ground I suppose.
I also have worked hard the last few years gaining knowledge about conscious eating and as I stepped into the authentic life that began in late 2011, a definite rebirth (one of many) I started to recognize it would be time to apply, not talk about the new habits and also could tell from the moment I met me wife those same things were very important to both of us.
I eat meat, I eat bread, and I eat plenty…but I do eat with a conscious heart and we as a family make sure it comes from local farms and are pushing ourselves each week to cook better as we make all our meals essentially at home. Also working on balance, eating more small meals, etc.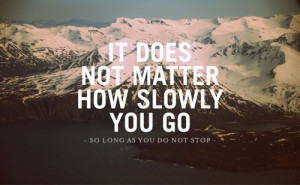 Food for me is not just used as fuel but also an art I enjoy with cooking, as emotional support at times (admitted emotional eater but aware enough I work on this like everything else in life because it's the worst food choices we make if we are tired, sick, or upset) and it's a great social aspect and pretty damn important part of life…LOL the key is making the right choices.
So I walked and I hiked and I ran and I rested when I should have. Saturday was my "one hour" day and I decided to take Sirius to Lake Fayetteville trail with the intent of walking half, jogging half. I missed the old dirt trail I'd ride and was tiring of the paved path, so that extra spark and some new tunes on my phone and my favorite Saluki in the world by my side we just kept jogging.
That loop around the lake is a great barometer for me. I worked at Lewis and Clark near there for around 3 years in my 20's and the amount of times I've ridden or run around it is hard to fathom so I know what my body should feel like around it and I also have memories of struggling to walk around it.
Somewhere in the middle is how I felt for this first run and that's not a bad place to be.
My legs are still sore, today is another rest day by this well calculated plan and I recognize the beginning of the quick changes to our physiology with regular and consistent running.
I've managed 1.5 years of following through to the best of my ability on everything after some years of drifting at the end of my last "era" of life we'll say, and feel certain I have enough guts to keep trying and completing this project one week at a time. .
During that time over the last year I managed to help my wife and I launch a brand, an idea, that started with this blog and two people realizing that by sharing life experience authentically that tied to the ethos of Solgave (nature, animals, love, overcoming obstacles, healing, growth) The feedback and growth of the site month to month is the only reason we keep writing and I have to keep thanking the readers from around the world who in some how have found a sliver of something they can relate too. Sunniva and I are passionate people, but flawed, and both desire to work through life, not avoid it by the typical trappings. Solgave is really about just that.
Writing is as important and cathartic to me as running so it became clear just over a week ago that if I could tie those together and process/document this journey than I could have some fun, get some therapy of the writing each week (along with our blogs for the business), and work towards getting back where mind/body/spirit all align.
My son or daughter is getting close to entering the world, as Sunniva is about to hit week 32.  I turn 40 this year as well.
I am in uncharted territory and most every aspect of life but it's still a sea and we've still got to steer the boat. We still have bad weather that comes our way. Life today is about keeping the boat in good shape during good weather to make those storms pass easier.
Running is one of the greatest metaphors of life. You have to lace up every day. You don't have to go far, it doesn't matter really the distance, just lace up those shoes.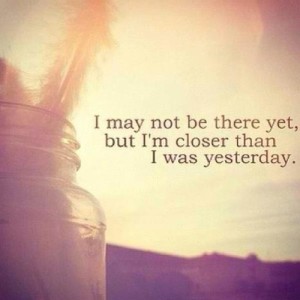 It's the same as life. Just show up each day and give your best.
Running is about putting one foot in front of the other and just keep stepping even when it burns, or your tired, or it's wet outside because NOBODY has ever come back from a run going "I wish I had not done that" Never.
This isn't about a race, this is about "The Journey" and a man hitting the decade of life where I spend ten years being a father in critical molding years and I also enter the decade where you either see friends, relatives, peers fall apart a bit or change lifestyle enough to start hopefully aging like a fine wine.
Have a dream, make a plan, go for it. You'll get there, I promise.
Zoe Koplowitz, marathon runner
Please follow and like us: