Solgave Clothing – Progress on another step towards the dream.
Our logo is so much closer, I have goose bumps and chills.
Today my other jobs is to study, it's Sociology (Women of Color) and a part of my minor upper level requirements left…..the topic is immigrant women with some great readings to do, and then painting. I have the painting scheduled out with 5 days wiggle room so that this project is done by the time I come to the US
Every day the feeling is more right, my long time friends and family know that this venture, to them, makes more sense than Solgave Animal Solutions. And that made sense to me, and others, as it was a great industry and perfectly designed around Sunniva as the muse.
I was only a dog owner, a typical client of ours. The heart of it was clearly Sunniva and my heart and passion were the creation, the the monthly events we held in the community called Pack Walks, and marketing and branding along with promotions and client development. Yeah, we had fun blending our skill sets and it worked it worked really well.
Rather than just see it dissolve, we are blessed to see that it got into new owners hands who follow many of the same principles and high standards of service in animal care. They seek to improve and will continue to slowly do just that in what is still a great market and industry.
Solgave Clothing is a bit more of my branch of the tree. We believe without saying too much Solgave Project will overlap perfectly with this. It is my hope that it's 100% family ran. An epiphany struck us after viewing more of G's Art, that she is so good and makes such unique drawings for her age that a category for kids or inspired by causes we believe in will have actual designs done by my soul daughter. A father and daughter project if you will. At least one part of this. Children were a core component of what we wanted to get into long term, helping, examining alternative ways to learn outside the traditional classrooms.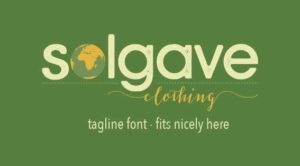 On another note, I won another appeal, this one had to do with something at SFA. I am loving learning again so much, SO GOOD FOR THE SOUL, and engaging with bright minds.
I also recognize both Stephen F Austin and University of Arkansas are good markets for us to get shirts in hands in the US and I have links to both Sweden and Norway when the time is right to do that. For tax purposes though, this startup is in the US, just ships globally. Shipping rates reduced so low in the mother country of my children they won't pay more than a US customer. 🙂
Anyway, most of the final creation stage will come with my time in US when I can spend 60 hours a week getting all the final things in place to virtually launch this full service e-commerce web shop with blog content, photography, and items to buy.
One week before the election is my time table as one design is an homage to my political hero (Bernie) and a simple message about hope for the future.image
Tagline is coming. I always trust my gut when I share part of the narrative of the creation. When I knew this was not just another idea, but a full on effort, it felt right to begin writing about it.
When days feels dodgy, when the full moon makes kids unable to sleep, and the chaos seems to much around you, I I just get alone for a bit, and remember how cool it is to just be alive.
Choices. Decisions. Perceptions.
Live your life and chase your dreams.
Staying busy is a good thing, too busy makes me function less than par, not too busy, too much around me.
This logo is not yet a final version, just something I believe works, or something I like a lot, seeing neat stories, neat companies come to life with -passion excited me so I write this blog today with enthusiasm and passion.
Our best blog content will go on the next site. (Solgaveclothing.com) Less verbose (Unlike this blog) and what I believe to be one of the most unique t shirt/ apparel start ups in the world emerging.
Why? Because the images of Cadillac, our healing horse visiting now, or Edward the Rooster, the lookout point, these vectorized images that will come later, the symbol of Ashtanga yoga, or Vipassana…they are driven by real content we've been writing for most of 4 years on the blog site based on changes it's making to our soul, and hopefully a connection to those out their on similar paths.
Animals and Nature, Recovery and Personal Growth, Activisms and Humanity, and Healthy (where meditation, eating, yoga, hikes, etc would go)
So all our writing and photos we've been doing now for 4 years off and on will inspire designs and be the next OFFICIAL rung on the ladder, a vital one that helps funds and develop more concrete ideas on the altruistic PROJECT.
Which has always been about animals helping people and people helping animals. Healing in a natural and non traditional form.
Do not fear failure.
Sometimes sharing your thoughts are okay, it helps solidify them in your mind.
Trust your heart.
Please follow and like us: