Part 3 – Creating a Family
This post is the third part of a four part series about creating happy homes during the holidays.  The series, Happy Holidays in Happy Homes, is a collaborative effort between Angelique Felix, Laura Hutchison, and myself.  
We've touched on the concepts of Love-Soulmates and "Becoming a Parent"  and now move into Creating a Family.
Angelique has a wonderful blog "Creating a Two Person Family" where she uses amazing photography and a beautiful poem she wrote this week. Also catch her out on her Youtube Channel sharing this poem.
PlayDrMom has a wonderful blog in her third post in our series. A segment below.
"So, we are affected in many ways by members of our family in many ways … for better or worse, for good or bad.  It's part of life.  What's important as we go on at create our own families is to be mindful of how we are impacted by the people that make up our families.'
CREATING A FAMILY – PART 3
This week we are touching on the concept of "Creating a Family" as we enter the final two weeks of our project.
It's a bit ironic, and perhaps coincidental, that just today in fact we got our first ultrasound on the baby my wife and I are expecting.  This single event left me deeply emotional in the car on the ride home today.
Every step of this new journey is very magnified and personal to me, because of how long it took to prepare for the role, to prepare for the responsibilities and blessings.  To prepare for the changes.
For Sunniva and I, as we enter the early phases of "Creating a Family" we face interesting obstacles, or challenges as we like to call them, and amazing opportunities and gifts as well.
Both of us grew up with an idea that this planet was "One World"; we each had a vision not limited by our own nationality, a dream about the creation of a family that represented humanity.
Adopting was going to be an important part of the path for me if I was blessed to ever find the connection that I found with Sunniva, that you read about in Part 1 Soulmates.
I then discovered in "Becoming a Parent"  how this affected me at my age, away from my home country, and after how I had frankly given up hope in ever fulfilling my purpose that I feel I am here to do, becoming a parent.
As luck would have it, I found my Soulmate, a Norwegian with a 4 year old, who is now my amazing stepdaughter.  As we now have a young baby growing in Sunniva's belly, we have to think about the power of finally creating our own family. Our own tribe, as we like to call it.
It's very important that with Gabi and our yet to be born son or daughter, that we treat them the same and hope that they are seen no differently by all friends and family.
When we bring in our third child in the future, that we hope to be adopting from another country, this will give us and our other two children a tremendous gift in our ability to create a family that represents what matters to us so deeply, a global view.
We want all our children to learn about the home countries of both Sunniva and I, as well as the country of any adopted.   It will be deeply important that we spend time each part of the year learning about customs, traditions, holidays, and more about all respective countries of origin.  But what we want them to know most importantly is that our home is earth.
Family to us is a foundation that we build for them, and with them; of respect, love, and understanding, so that no matter where they are coming from physically or mentally, we will strive to see their point of view and always remember there are two sides to every story.
The family that we are creating is based on a set of core values and a desire to teach and show understanding rather than judgment.
Animals will always be a part of our family, and respect for all life is an essential part of what we want to teach our children.
We believe that children are the arrows that we sling into the world to hopefully make it a better place than we are leaving it to them.   Our hope is that by showing the Norwegian culture, the American culture, and perhaps an African culture, for example, that we can teach so many wonderful things about what unites us and not divides us.  Chances to learn what textbooks can never really fully touch on in terms of cultures and societal views.
But as Sunniva and I give tremendous thought to the gravity of our love, the belief in how much power lie in the children we raise and the lessons we can teach them along the way, we are so excited to planted these young global sides and hoping that in some way the creation of this international family can be part of a bigger change in the world today.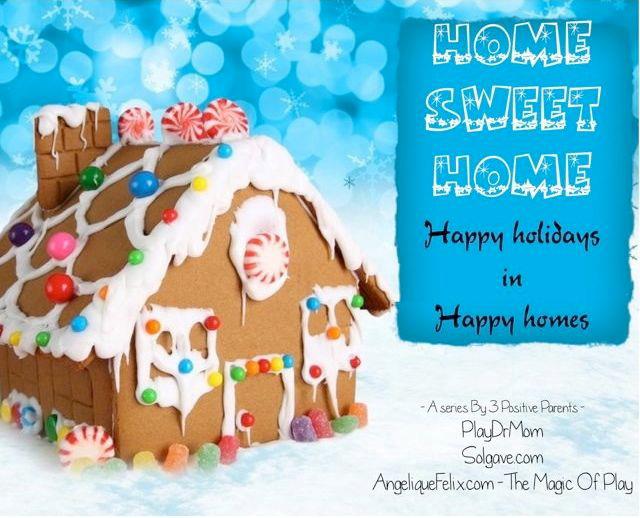 Introducing – 'Home sweet home' – A collaborative writing series that explores parenting through the holidays, and how we can create a loving, happy home.  (series)
My writing partners Angeliquefelix.com  & PLAYDRMOM want to create some holiday excitement for you and your family!
Not because we' ve found the key ingredient for what happiness in the home means, we are sharing very real perspectives of families that have both good and bad days.   But we not only have a deep belief in our families, but value a life of play, love,  and connections to each other.   Never losing sight on what matters most, that happiness around the holidays is built on a foundation of things that you cannot buy with money, but experiences, laughter, and love that have no price tag.
In the coming weeks as we  approach  Christmas, we   look forward to sharing some hands on,  real life experiences on the following topics with you:
Monday 12.11.2012: Love – soulmate
Monday 19.11.2012: Becoming a parent
Monday 26.11.2012: Creating a Family
Monday 3-12-2012: 101 ways of staying Happy
The series will be brought by you by three blogging parents:

AngeliqueFelix.com – The Magic Of Play is on a mission to bring play back in daily lives through bilingual songs, movement & creativity. Angelique teaches 0 to 6 years old in Italy, but comes from the Netherlands. She is a single mom loving passionately her only daughter Chanel every day. And she thinks it's strange to write about herself in the third person.

PlayDRMom is a mother of 2 and a clinical psychologist specializing in children and play therapy. Her blog is dedicated to promoting the importance of play and strengthening relationships with children.

Solgave.com is more than a blog, it's a unique philosophy of life shared by Jared, an American now living in Sweden, and his wife Sunniva originally from Norway, and her 4 year old daughter Gabi, as they navigate the waters of life by focusing on the core elements that define them. Nature, animals, families, travel, healing, and overcoming obstacles are some of the things they share with passion.
We would love  to have you join us on our journey towards Christmas, please come back next week on one of our blogs!
Please follow and like us: