One Year Ago Today, At This Very Moment….
One Year Ago Today, At This Very Moment….
This story has been told, and retold but it felt important for me today to mark the real anniversary of my wife and I with a tribute blog, and a few visuals to show what has happening in real time as we were about to finally hug in real life at London's Heathrow airport.
You get a good glimpse into the broader love story with "Two Perspectives of One Love Story" but today I wanted to just take you on a bit of a roller coaster of emotions during a 24 hour window of time.
You have to understand and many of you reading this do, I had given up on the belief that I could ever find someone on this planet that would fully "understand" and "see me" for who I am.  I knew deep down, they likely would not be from the US for some reason, but that wasn't part of my consciousness when I was planning a trip to Europe in January of last year to do some soul searching.
I wanted to do a video Skype to show her something that would have taken just one minute, after we had been chatting that  afternoon about the European trip I was planning.  Initially she was in a thread of several possible European friends I knew from Facebook  that I might be able to meet up with. That fateful moment where she said "Yes" and turned on her cam,   led to the eyes locking that first time.  Love at first sight isn't the right word.  This story is told in above linked blog, so I want to move into the 24 window.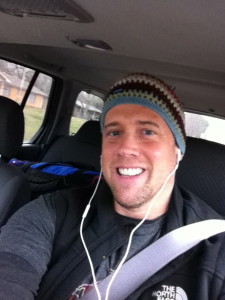 I had driven to Texas and was being dropped off at DFW Airport by my cousin (picture above is me in route to Dallas), loaded down with a Trek bag packed with some just in case things and enough nerves to nearly have me in cardiac arrests.  We still have some of the text messages to each other right as I was about to board my first Trans Atlantic flight; and the tension, nerves, excitement is palpable.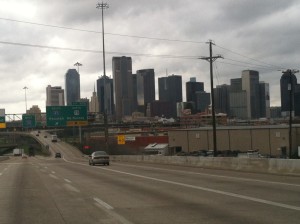 Sunniva was nestled into a Hostel in London and already taking a couple photos of her walking the streets.  When the call was made to board the flight it would be the last time my Verizon phone would work and our texts/communication was cut off until the embrace the next day.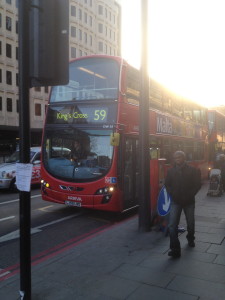 The flight itself is foggy to me. I remember the plane was big, really big.  LOL. I was exhausted from the long drive down to Dallas and the night in Nacogdoches, TX to store some final things that I had left there…. but was way too nervous to sleep much.
When the lights went down and the map shows the path your plane is taking I just kept glancing as my flight was nearing Iceland.  I got to take out my contacts for a couple hours and just lay my head, before getting them back in, brushing my teeth and starting to tap my legs, as we got closer.
"Oh my f'ing God" I was saying to myself. It's really happening.  Goosebumps just writing this out and remembering how powerful the feeling was that the woman I was about to embrace for the first time was the one I'd grow old with. The one I'd achieve my dreams with. The one I'd grow a family with.
Sunniva tells the story well and shared on Facebook her perspective from that day. She was running a bit late and arrived just 30 minutes before I was to walk out of security.  It takes a bit of time to get through customs, grab your bags and make your way down through the doors.
For weeks I had been waiting to see Heathrow, an airport known for it's international vibe and the backdrop of so many movie scenes yet my time in this airport is hardly in my recall section of memory. There is a reason we have no photos of ourselves from my arrival until we got North…we were intoxicated to say the least by each other's presence.
With an intensity of my heart beating more so than being on the free throw line, down one with zero seconds to spare…I had cotton mouth and nerves that almost took me out of my body.
Through the doors I went, knowing she was now seeing me sent shivers down my spine…I glanced left, I glanced right…my eyes still moving and then it happened… I see a tall, narrow framed dark haired girl that was holding her hands to her face. I grinned widely and dropped the heavy bag over my shoulders.
She ducked under the rope and grabbed me.  The hug…one we had waited on for what felt like years, was just 6 weeks of time. Tears…
I have no idea how many eyes were on us, but we were both so nervous and out of our heads once we let go of each other we muttered a few things…LOL. "Water, who needs water?" I said with a laugh.  "Gum, who needs gum?" she says.
We take each others hands, grab some water and sit down briefly.  These 30 minutes of time I have no memory of, we sat down and kissed and hugged and just stared into each others eyes (so she says, as I was still not quite back to Earth) …. intense is not the right word.  Wow…
The thing about the story now is we had a timeline one year ago today with little margin for error.   This journey involved tubes, trains, and a journey north into England where we would arrive at Willington later that day.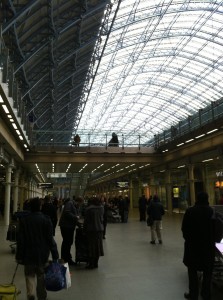 We had to take off in a run to catch the tube to King's Cross Station.  My Visa card used to purchase the tickets online did not have the chip that all European cards have so with minutes to spare and our train being the last one to get us to Willington, Sunniva dropped her bag and took off like an elf in the night.  This is where my memory is restored and came down to Earth. You'll see in the photo below, I captured this and put on FB (This is a wild story of where I stood as we BARELY MADE THE TRAIN.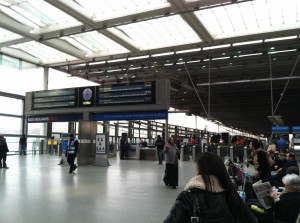 She ran, I like a mule packed our stuff to get ready to enter the train and with one minute to spare she had tickets in her hand.
Deep breath…. we sat down on the train, my first high speed train in Europe and for almost 3 hours we got to just breathe each other in. Thank God we were in Europe because we were so obnoxiously affectionate it would probably have been a bit much in some parts of the US. LOL
We got to stop once on the train, grab some coffee  and a sandwich at a little pub in a station (see pic below where we had an Americano on our last stop before our pick up)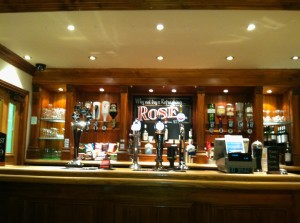 and sort of had both feet grounded. By 3:20PM we had made it to Willington. I was on little to no  sleep, as was she, and we were greeted by the voice of Steve from Mercia Marina who carried us to the boat we would call home for the next 8 days.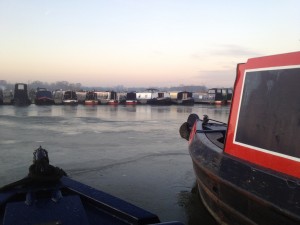 Sunniva and I were so wrapped up in the intensity of this love; we had spent zero time thinking of what it would be like to live on a boat for 8 days. These narrow boats are amazing, and I'd probably say for most couples it would be great therapy…LOL…because you are forced to work as a team in some tense situations if you let them become that.
Tiny space, no secrets, and weather that was to say the least.well, January in England.  We had to cut through a small layer of ice as we headed south the first morning after sleeping on the boat in the marina.
The world had watched something they sensed was "different" I suspect. In my case, family and friends around the world knew the misery of the years behind me and could really see the reality of this being something that was changing me on a visceral level.
Our first night on the boat and all 8 days were something we'll never forget. Wind, rain, ice, sun, and more.  Meeting the locals that live on the canals and visiting little villages along the way as we learned to navigate the waters and locks with a seamless sense of teamwork.
Since my phone had not been working and for 6 weeks the world was seeing a load of changes via updates, photos, etc.…it would be the next morning we grabbed wi fi and with our phone uploaded the first image to the world watching.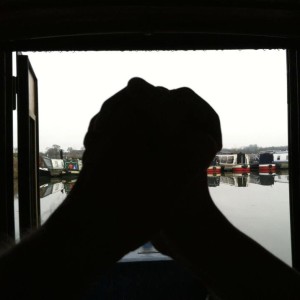 It was just our hands clenched together in a unifying symbol…a photo with some powerful intent on many levels. We recreated this symbol on our wedding day to create the visual unity that meant so much to us and you can see the emotion on our faces 4 months later.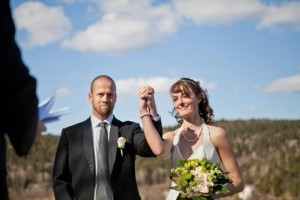 After the teaser photo of the hands, the first photo of our heads together was shared and the journey began as we left the marina.  That story is told pretty well here on "A Link on The Chain of Destiny"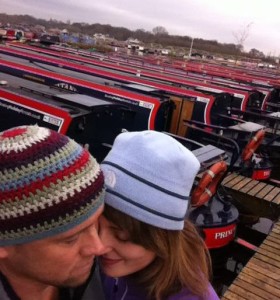 Today is the anniversary that we value more than our wedding day, and even what was a powerful day on November 27th, 2011 when our eyes first met.
One year ago today we finally wrapped our arms around each other knowing we'd never let go…
Please follow and like us: