My Pug Lily…
I've written a lot about what this year has done for me on a deep, personal level.  It's involved searching within, finding what limits we can surpass to get a broader understanding of who we are. Why we are here.  What we can do about it.
Isolation and nature has done tremendous jobs of this for me. I embraced it…. I wanted it…
The culture and world here in Scandinavia is amazing. You cannot learn via YouTube videos, textbooks, or Internet articles what you FEEL when you visit places around the world.
A unique energy exists in every pocket of the Earth. Part geography, part history, and part collective consciousness of those residing there now, is how I perceive these different energies.
Yes, this is a tough language to learn and while juggling the constant question in the early months here, " Do I go back to start working for financial reasons?"
Or do I stay here and just hang on by doing odd jobs and trying to create what I could with what was available to me.
This led to a lot of "hanging on" and pushing back things like learning the language that I am still working on bit by bit.
Literally, month-to-month we didn't know where we'd be. Could I stay? Would I get my residence card? What next?
Many of you know our story and the timeline of it, the unique aspects of our life this year, our philosophies and dreams that led to forming Solgave, and how wildly entertaining, scary, and powerful the journey has been.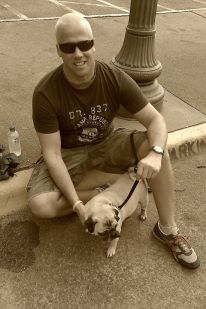 We have to ask ourselves new questions every day, look into the depth of one another's soul and evaluate what is the best option for our sanity as a newly married couple, fragility of a 4 year old involved, and complexities of this farm she shares with her mom and all of the wonderful animals involved.
Getting back to the point of this blog.  By writing as I do in free flow, it helps me to get a bit of background out for my own observations and to catch anyone up who's a new follower of the Solgave story.
The one year mark is fast approaching and as a socially charged person it's hard to lose sight of little things that have been incredibly tough, like not being able to hear every conversation at the grocery store, not understanding "rules of the road" with very few signs.  Struggling through dozens of scenarios because of cultural/language barriers on things we take for granted if it's your home or a language you speak like trying to get gas if the tank seems to not be working.
Before leaving for Europe is when I committed to the no TV, journal every day, no processed foods, eliminate gossip patterns, go directly to people versus around them in points of conflict, cut toxic relationships, and immerse myself in nature.  A formula I was fascinated to undergo and knew it would prove life changing on a multitude of levels.
Yes all these things laid out in my planner, as I sat at the lake house assuming I'd come back, but ready for a "rebirth" in many ways.
I had no idea I'd stay and get a chance to live those six codes to the best of my ability in a beautiful, majestic…fairly remote part of the world. Powerful chance to go deep into nature and find the core of my soul, as I've said before… one I had forgotten existed, or perhaps never fully knew.
YET, one year in what I am missing the most and rarely talk about is my pug Lily.  We shared 11 years together.   In that time the amount of cities we moved, the things we saw, the pain and joys we went through together defy most human emotions I can think of.
I spent a lot of time alone those last few years in Texas and she was my sanity.  My "angel" in every sense of the word.
Yes, I have her photos.  I have a painting done from someone who saw a profile pic that evoked such a powerful image she requested to paint it, and man, am I grateful for that.   But what I don't have…. is her.
Shared custody was the blessing and agreement of a dog that was in every sense of the word the "child" I had with my ex. When I made the leap to Europe and used all the savings I had, sold my car…. I had to also disconnect from this little pug that was as connected to my soul as any human.
Many breakdowns the first several months just thinking of her, and deep longing to just hold her again.
As the months passed I had to realize the chance I may not see her again if something happened to her was growing but realized how powerfully out of my control this was for me.
While I…. through honesty, divine providence and the Universe placing me where I should be when I was ready for it, now have lots of dogs around me, a step daughter I adore, and a baby on the way, I still have deep emotions and complex feelings about the only "daughter" I thought I'd have. My pug, Lily.   For the last three years prior to leaving,  she never left my side and in some ways kept me going.
I'm not sure what the future holds for Lily as she gets older but I pray that tough little booger who beat cancer at the age of 3, among other things, hangs around long enough to get to play with Gabi and most importantly, grace me with the chance to hold her again, to let her know how well I'm doing. Our connection eye to eye is hard for me to explain to most humans. She is a wise little dog and seen the depths of my soul through a long and strange journey.
While I expect to see her again, it's become a bit unclear. It's breaking my heart that I may be kept from seeing her again.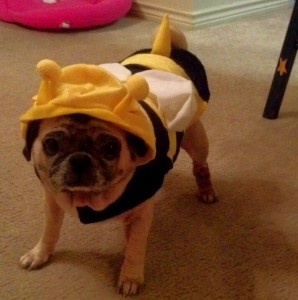 Pictures do help.  Memories help.  But they aren't the same….
On this day where we write about things we are grateful for. I am grateful for this dog.  Hard to write anything and not tear up.   She might have saved my life through the course of our long journey together.
She was the best friend I ever had, loyal, comforting, and never one to leave your side.
Yep, it was hard selling my car, hard to meet a culture a bit tough to reach initially, and a language and life I'm still working on finding the rewards that are  woven into "hard/tough experiences."
It is difficult to be away from friends and family during a year I dedicated to removing 6 other variables described above from my life. It has enhanced growth or it's capacity in big ways.
Led me deep into the recesses of my own mind, facing fear after fear after fear. Something that dog would be proud of and I "feel" that deeply. Some solace to help over the course of this year and the pain of longing for her presence.
Lily.  You are the most special pug on the planet and I miss you. I love you.
I hope to  see you soon. ….
Please follow and like us: