I Survived the First Four Months….
Man, when life decides to throw you a curve ball it throws a big one.  I still can't forget the night I found out about Neo's pending birth.  A lifetime in the waiting, a miraculous set of circumstances that still seem like a blur to me.
For those of you who have had children, some of this will just be reflections back or memories you may have forgotten.  Anyone who has not, don't let it scare you away! LOL.  It's a symbiotic mix of the most incredible time of your life blended with sheer  and utter insanity.  Just how much your day to day life has to change to accomodate the new being you are completely responsible for is hard to put into words.
In some ways it's the most natural thing for me to be a father, to embrace the role of finally putting others first. To see the eyes of the child and know that my life has purpose. My instructions, my examples, my love, can be now passed on and all the life lessons I faced directly may now have a chance to be avoided.  Everything has new meaning, everything….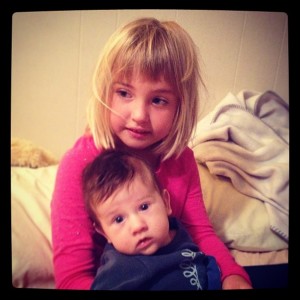 Now let me start at the first week.  You are on a high like no other.  There is no substance on the planet for the feeling of having a child. I am extra blessed to have been in the birth pool and able to have felt  his head crown, his  little body twist and rotate perfectly, and come right on out …up and out of the water and in my wife's loving arms.  Yep, what a ride…
We decided to start a company called Solgave Animal Solutions and after months of planning I was more and more sure of our success pending, once we got here. I don't claim to be good at much, average at a lot of things,  but I know how to develop cultures and brands and recognized I was at a place in my life where my best would finally be seen.  So with a shift from the Solgave Project/Farm we  began to develop the plan for  a dog walking/pet sitting business with my wife doing behavior modification work here in Northwest Arkansas and I managing the other aspects of this dream of ours with very altruistic visions for the future.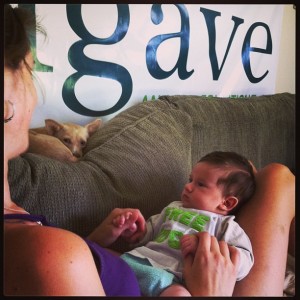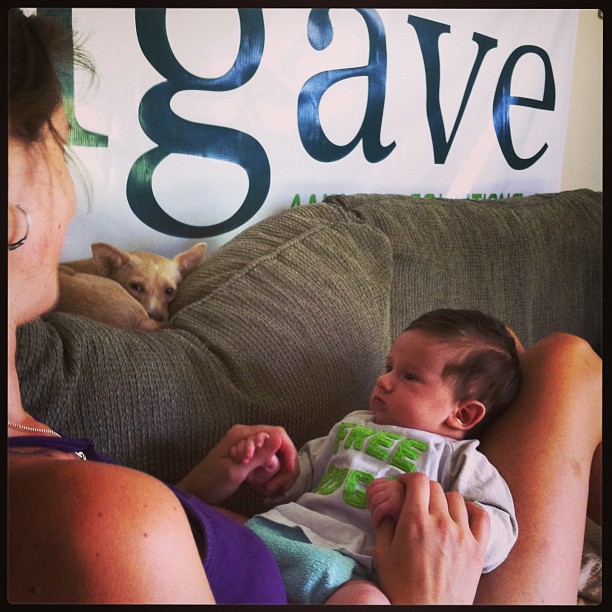 Then the two red lines on the pregnancy test appeared just before my 39th birthday!
How will we? Can we? Should we? Is it reckless to? You have to know I struggled for weeks tackling 1000 variables in my mind to balance out the belief in what this journey would mean to our  long term success and happiness of my family,  with the short term sacrifices I new would come from launching a small business.
With his due date mid summer, we would barely have time to hit the ground running. Well, an early scare on week 34 that he may come early  meant forced bed rest for two weeks and business was halted.  I mowed lawns  three days a week, put out craigslist ads for odd jobs, changed my LinkedIn Profile every few days to a  "seeking work" intent and we sold a car. Man, to think of this summer and those decisions, the intensity of every single day and what cost/risk/reward aspects you have to assess daily.
If not for her dad's help paying rent this summer we could not have possibly have kept SAS dream alive.  My parents provided food from Sam's when they were down visiting, items for Gabi were bought,  and friends from the local natural birth tribe gave tons of items to prepare us for his arrival.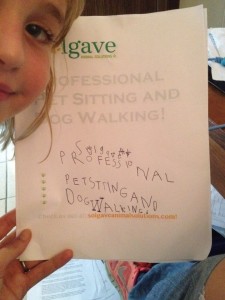 So we held strong and decided to make this thing work, to show our children that dreams don't have to be pushed back because life throws you misdirections.  I submitted applications for 10 jobs, 9 of which I did not want at all.  It would be fate that the one job I would have loved, I was not asked in for an interview.  Because if I had, I would have given it all I had, and today Solgave Animal Solutions would not be what it is, a company on it's way to greatness.  This was the first job I wanted and didn't get, but with hindsight what a blessing, what a miracle.
It's the blending of Sunniva and I. The yin and the yang that cannot work without the other. This concept was formed upon the union, and in no way shape or form would survive with one of us parting.  She would be a great dog trainer and likely an energy worker and healer of some type on a small level, and I'd be somewhere helping to innovate brands (one day at least) and help someone else build their dream using my god given talents and passions. But together, we get to merge those two things and provide some magic. But that magic means pivotal costs associated with it.  Costs on us.  The burden of getting through days without a minute apart, the stress of how to grow just a tiny bit more to not avoid another bill, or ask for any help. The burden to clothe ourselves and not give up on this. The burden of a little baby with strong needs and a 5 year old we care about enriching and teaching her about "life" by living and sharing. The burden of a tiny apartment, 700 square feet, 3 dogs, and 4 humans.  But we had to start with the house burned down as a friend in Norway had a prophetic dream about, before the temple could rise.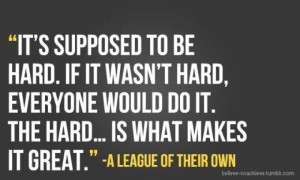 Those early months were after his birth meant the axis was tilted. The polarity shifted. Things were forever different.
So when we had Meet and Greets planned, and there were not many that first few months…:) I would sleep on the couch to make sure I could get some sleep and look partly alive. Sleep is something you get used to not having with a newborn.
There is a thrill still, a rush of sorts that carries you for a few weeks. My god, this creature, this little man growing inside my wife is now outside, with us….it's the mystical and magical reason we are here as a species. It's my purpose, my realization of fulfillment.  My legacy.
Gabi would be another 2 months from school and as a very active 5 year old requires a lot of energy. Energy I LOVE to give her, but we also have bills we have to pay. The only downside of a home office is you can't escape the distractions, or chances to miss out on playtime with your sweet girl on a sunny day. And you know what, I so recognize how fast those days will pass, I just chalk it up to "It'll work out" and hit the yard with her.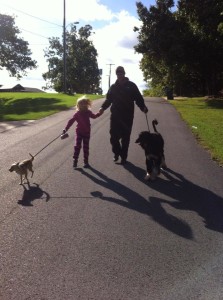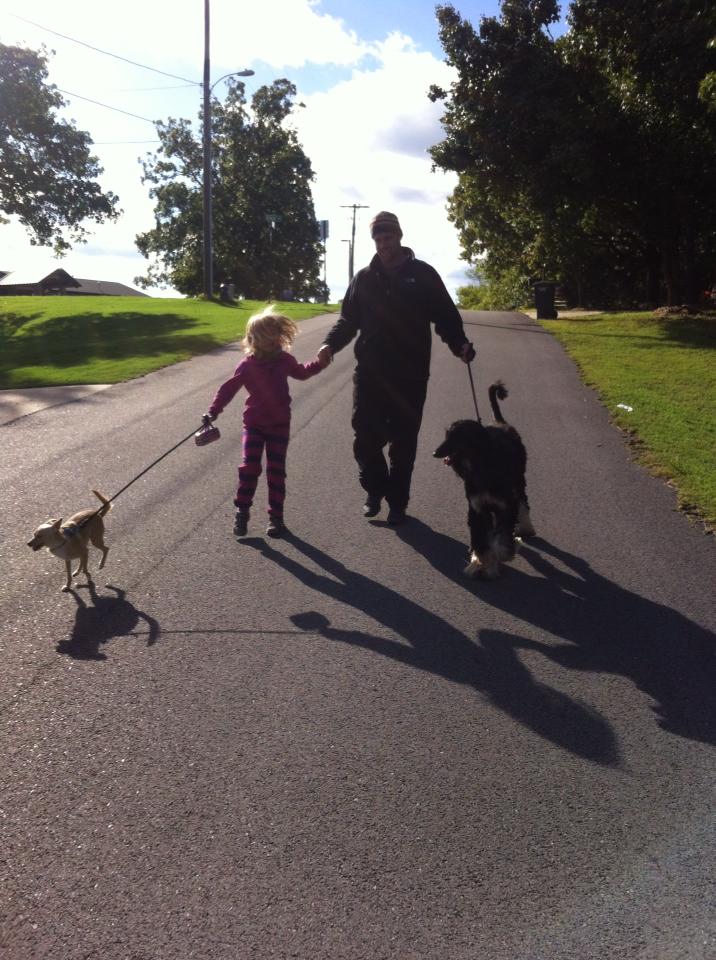 We wanted to commit to SAS because our time together as a family was so important to us. There are major pro's to a good paying job with more typical hours and great benefits, but the lifestyle we personally desired to carve out looked different to us. And so we began to carve out the picture in a way we believed would bring us ultimate joy and no regrets.
I will never forget the night in Sweden we shifted from the months of planning, the Solgave Animal Solutions website launched. (The business culmination of our Solgave Project) to not deciding to move forward with the business because of the "security" fears I had come rushing, and patterns of thought engrained from generations likely, but with days to really "feel" what's right we said lets do this.
So now our mornings are different. I take Gabi to school most every day. A blog about her and my feelings towards her impact to my life is coming later today likely.  I get spit up on, have demands and a load of responsibility that is intensified ten fold. I don't get to lay close to my wife every night like we did.  I am never rested, and finding a way to work around that is new to me, because before rest was so vital to being "balanced" and while it still is, you are forced to create the most balanced you possible with little sleep.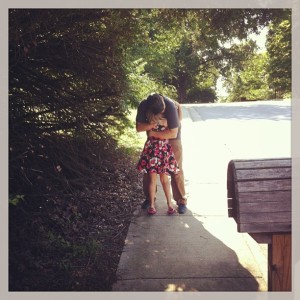 And here are the miracles. I watch this tiny boy grow every day. A smile I got to see the first time. A laugh I heard when he did it for the first time.  His expressions change daily and I don't miss many.  It's harder to get to clients houses together, it's harder to do anything together right now but you adapt and adjust and do the best you can.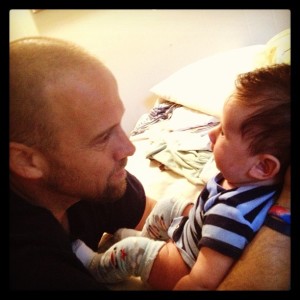 My eye has had to be on our business, the feelings and growth of Gabi, and the feelings and love I need to share and experience with Sunniva and Neo. There is so very little left. I do need to exercise more, and I do want to starta  book study, and I do want time to write more……but this phase, while tough is like anything in life, filled with equal light and dark.
I don't know if that's understood, but what I mean is the joys I see, the tears I get from seeing my son smile at me, seeing Gabi's expression and words every day as I drop her off and how emotional that makes me, is coupled by a dark, shall I say tough aspect of all that stuff mentioned above.
Business partner who is your wife, always tired, struggling to make your dream work and going from nothing, literally NOTHING, to paying your bills (almost there) and adjusting to having no time for yourself to read, or write, or think much.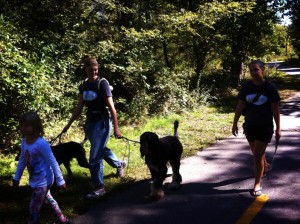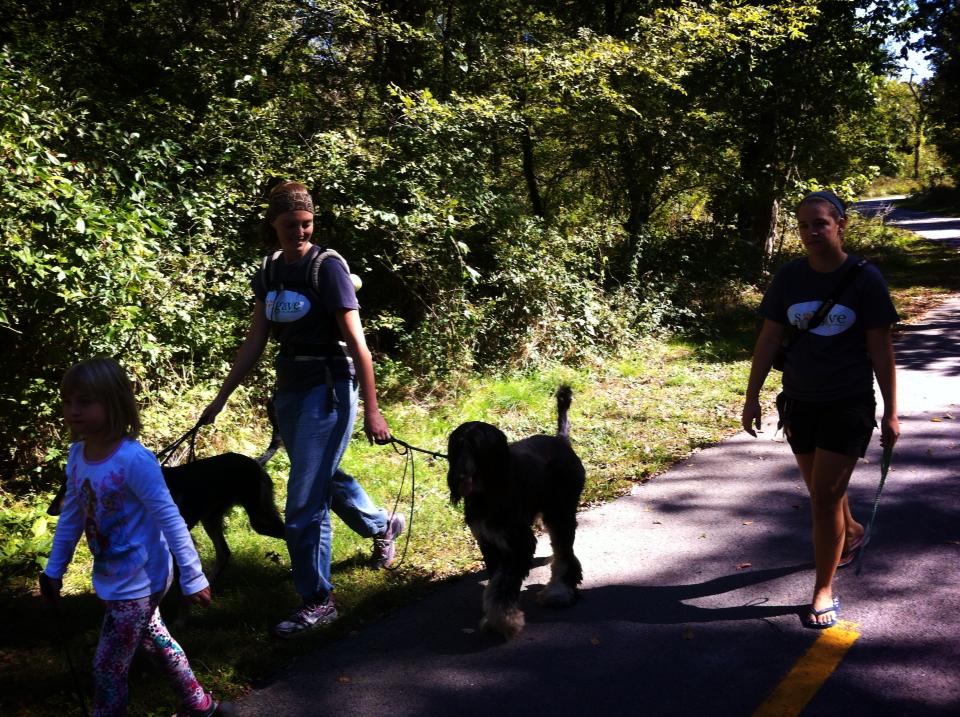 Yeah, you get these tough times that provide intense times for our little tribe to grow, and growing we are, literally and metaphorically.
These have been some of the greatest 120 days of my life since Neo's birth, and without a doubt some of the most challenging. But you know what, I was only given these challenges when I was ready to handle them. And I thank the Universe, God, Allah, whatever you call the spiritual collective consciousness with all my heart.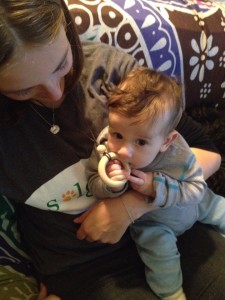 Yep, I survived the first 4 months of my sons life and all the changes that came with it.  Not only survived, but sit here today a far more developed soul than I was just 120 days ago.
Please follow and like us: