God Jul – My First Norwegian Christmas…
God Jul – My First Norwegian Christmas….
Last Christmas Eve was the day I had loaded up my Xterra to the top and pulled out of the lot in Nacogdoches for a long trip back home.  That road trip itself could be a blog. Filled with an emotional exit because of leaving my dog Lily behind and a 12 year period of my life ending, a mind that was having a hard time staying focused while driving, a kind stranger who paid it forward on the tollbooth in Oklahoma as I was nearing Missouri 8 hours later, and a highway trooper who let me go on a warning seeing in my eyes the nature of the trip I had just made (physically and emotionally exhausted) after speeding by his discreetly hidden car.
It was Christmas Eve and no matter where you are around the world it is about the spirit of giving, eh?  That night I would text, call, and finally Skype with my now wife, Sunniva. We were soul mates from the moment we locked eyes after while we had a great deal to push through to get where we are today, we both knew it was coming.
Our blogs are read by mostly Americans (although we have a good base from a dozen or so countries now) so I thought I'd  give a bit of perspective on what this year's Christmas was like (especially for those in America)  for me as I got to experience the season called Jul with traditional Norwegian customs.
Historically Jul goes back to the early Viking days in the Scandinavia region and was centered around the solstice, the darkest day of the year, and in Norway that's one of the coldest and darkest days in the world.  As early tradition would have it around St Lucia Day (December 13th) the farmers would cut enough wood to make it through the holidays, slaughter all the meat they could not afford to keep fed during the long, cold winters and it was a time of celebration, a feast like no other.  They symbolism of the shortest day of the year and their sights now put on the sun predates the Christian version I grew up knowing.  Around the 10th century, In the King Haakon moved the Jul celebration to December 25th and the tie to Jesus brought in.
The Jul season here is less about religion and the birth of Jesus (of which I think most biblical scholars and priests agree was likely not anywhere around December 25th) and more about keeping these old Jul customs alive.  Norwegians decorate their house in a very understated fashion with typically one lighted star in each window, and lots of candles lit around the house.  The Christmas tree is always fresh and if you follow tradition brought in on December 23rd.
The tree itself as a symbol for Christmas or Jul goes back to Germany, where it originated in the 1800's.  The fresh pine and spruce were symbols of the vitality and growth despite the dark winters.  I have to admit going into the woods with Sunniva and Gabi to find, cut down, and bring home our tree this year was a magical experience and extra gift for me as a new step dad to see all things through the eyes of the child.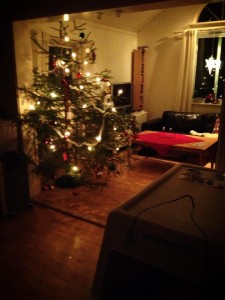 The Norwegian's are known for baking. My god can they bake! From sweet rolls, to our home made pizza crusts to well, everything… Their bread is some of the best in the world. One of the things I will miss the most while away is the bread we would drive across the border to get.  We live on the Swedish side now (my wife and mother who are Norwegian bought a farm 4 years ago just on the Swedish border) and the quality of bread is remarkably different.  You go into the local grocery store and the bread section is huge. It's full of fresh loves from about 30 different varieties, and you throw your loaf into the bread cutter machine and the salivation like Pavlov's dog begins. I think I could write an entire blog just on Norwegian bread so I'll get back to the Jul experience.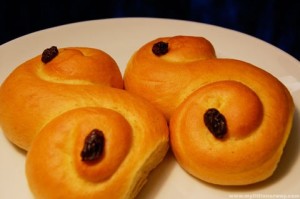 After a bit of background on the historical aspect of where Jul stems from a and specifically how it is celebrated in this part of the country (Check this link out for a well written blog about Norwegian Jul from an outside voice) we'll move back into my personal experience this year.
The snow came in this year early December. Without the beautiful layer of snow and ice covering the fjord it would miss the mystical element of the snow.  This year on Christmas Eve or God Jul there was a heavy snow falling in the air.  With my wife's brother here for several days, and many festive cooking things already accomplished, we headed to the harbor for our second walk of the day with some of the dogs.  It was a heavy snow and we grabbed the camera to get some photography for our new website we are building for SAS.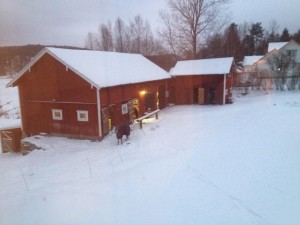 Just as we reached the flat area 50 meters from the sea and me having my 30 lb.  training pack I had been using for a week doing ruck marches the fresh snow had covered a very icy section.  Likely when my leg tried to recover, the pack pulled me down and an old knee injury reoccurred. The patella pops out after a twisting motion and sits painfully on the outside of my leg.  I lay there writing in pain, and Sunniva with calmness listened to my strained words. I knew an ambulance was not an option where we were and based on the fact I was not in the system here or insured it was imperative that kneecap go back in.  The only bright side of it being a recurring injury is you know it has to be done. With a final shove and attempt to straighten leg enough it moves into the groove it should and back on top. With her brother's help I was assisted back into the house and from there I'll step back into the traditions of God Jul.  This was a part of our day, and a part of our holiday experience so I think it was appropriate to add it.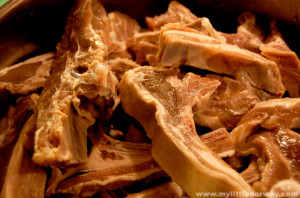 "Pinnekjøtt is one of the must-have traditional Norwegian Christmas dishes. It is made from ribs of lamb or mutton that has been salted and dried, and so it has a very strong flavor. Pinnekjøtt directly translates into "stick meat" in English, but the name doesn't come from the shape of the meat (e.g. the ribs forming sticks) as some may think. The name comes from the birch sticks that are used as a steamer to cook the meat. The birch sticks also add a subtle sweet-minty flavor to the meat." (More information on Pinnekjøtt here)
Pinnekjøtt is served on warm plates with mashed swede, boiled potatoes with skin and a good amount of mustard. The meat is very tender and juicy, so gravy is not needed. Some also like boiled carrots, but any form of salad is out of the question!
After arriving back to the house with my knee back in place, but still in pretty serious pain, the holiday meal was a bit surreal.  The beauty of having so much snow around is the "snow pack" (cool alternative to ice pack) was readily available and helped keep swelling and pain down as much as possible night one.  It took some aquavit, the Norwegian holiday "spirit" to alleviate some pain and was well timed as it's the only time of year you see families typically pull this out to aid in digestion at the end of the meal. I have to say, the salty flavor and tender meat was mouth watering! Well worth the hype in my opinion, and a smell that they say will remind you of Christmas anytime you come across the aroma throughout the year.
Aside from the unique differences of the Jul season versus what the customs and traditions that I love about the holidays back home, what made this year the most special to me was having Sunniva by my side, and getting to experience the magic of Jul/Christmas through my 4 yr. old stepdaughter's eyes.
From seeing her go down each morning of the month (24 little home made stockings and pockets that are part of the calendar kids are used to here in Norway for the Jul seasons) to the anticipation and build up of the gifts, the food baked, and all the holiday traditional movies watched…it's a set of eyes I had waited my whole life to begin.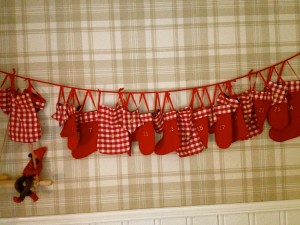 Yep, as I type this it's New Year's Eve and I'll be closing out one full year here, having every holiday away from home and in a new culture.  God Jul was a magical way to end this cycle.  There truly isn't a part of the world probably more setup to have such energy and power during the Christmas season than Norway because of the long dark days, less emphasis on all other holidays during the year, and the typical snow and cold temps that make the hot cider and warm fire feel so alive.
I'd be lying if I didn't say I missed the little thing about my own country during this time however, and will share a few of the many things I was missing back home.  We have some of the best home made rolls in the world made on my mom's side of the family that she carries the torch for and spends all day preparing them in different stages.  An aunt of mine usually makes the dressing that is a favorite there since my grandma passed away.  Sweet potato's, mashed potatoes, seven-layer salad, home made pies that every grandma has spent decades perfecting line an entire table.  The scene of people at Christmas is always different because it's more likely than not that somebody is alone for Christmas in the town and will get invited up. Or a random friend of a relative who certainly would not be left alone on Christmas Eve.  Some of these things are such a great part of our American spirit  and aspects you take for grated until gone.   I miss the trips to deliver gifts to a family in need that were done so many years while working for different companies and seeing the sheer shock and joy of people not expecting anything.  I miss the decorations in my own mom's house because what feels most natural to us is where we came from. Especially if it embodies memories of peace and happiness.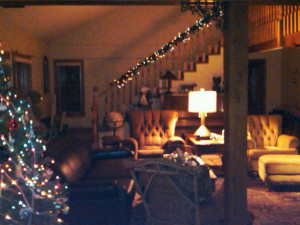 Leaving the large family gathering after playing games and enjoying visiting for hours some of the most relaxed memories are the quiet ones back at the farm.  Even to this day my mom does a stocking for both Ray and I that has cool little practical gifts.  Friends will send you a text or you'll have a gathering with some of those. I miss touring the Fayetteville square and seeing the lights and smiling faces of families walking around and just "being" in the whimsical setting.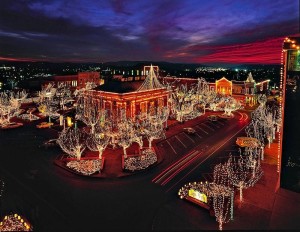 What I realize most though about seeing an entirely new view of Christmas in a country that does it very differently in many ways, is that in the end it's about the people you love. It's not every about the presents and I realize now it's also not entirely about your natural traditions…it's about experiencing magic of a powerful time of the year around the Solstice.
Whether religious or not, it has different symbolism for you…but what unites us all through the power of the Christmas and God Jul season is love. Is symbolism. Are the children.  Next year I'll be staring into the eyes of a 5-month-old baby and having a 5-year-old Gabi.  This year will be the only Christmas we plan to not celebrate with both sides of the family. We are embarking on a commitment and belief that it's the right time of year to come back to Norway (all of us) and we'll now always be able to celebrate with everyone.  Dates may be shifted a tiny bit which happens in every family where distance comes in to play, but you don't miss the experiences, the magic, and the traditions of each house.
Last Christmas Eve I headed out of Texas with a deep idea things would change in drastic ways. This God Jul I celebrated in Europe one year later finally able to recognize that those were not just ideas of change, those were actions I took.
Wishing you all an amazing holiday season, and if there is any theme to take away from this it's the power of one year (Christmas Eve to Christmas Eve for me) and what kind of things can happen if you just…keep…. moving.  And never stop believing you can.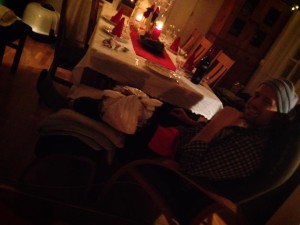 Please follow and like us: