Four Days in to the New Journey……(What a Ride)
 We left you with the story of "Horses to the East and to the North!" that showed how intense the emotions and pace of that period final month in Sweden/Norway were.

We had horse sitting jobs up until the Sunday before we left.  My wife had no time to really process what was next because of the importance placed on the 23-year-old Icelandic horse Godi, and getting Sawa (her Arabian) to Stockholm where she will be leased for 2.5 years to have a foal (or two) while we prepare to afford the costs of shipping her abroad.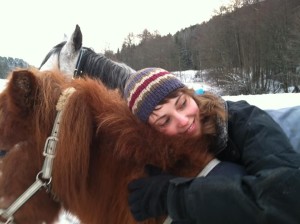 We traveled 28 hours straight from doorstep to doorstep that day.  Rising at 2:30AM after doing final packing, sorting, and trying to cook our last home made pizza downstairs.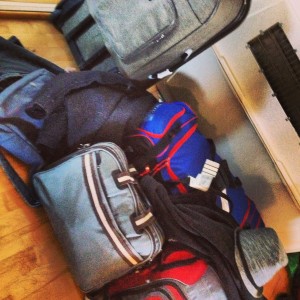 The ride to the airport north of Oslo was a blur, our life and pace had moved so fast there had to be a bit of a delay into the "what's next" during the final phase.  Bare in mind, we had been planning, dreaming, and molding how to create something with our two personalities since March…and the idea of Solgave "The Birth, the Growth, the Dream" was born in April, hard to believe it was almost a year ago.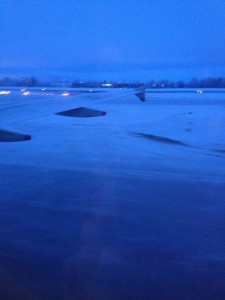 With a -20C wind in our face and our plane delayed a bit to go through two de-icing phases, we entered the air heading to the US Virgin Islands for a delayed honeymoon trip (of sorts)
Like everything it seems we've faced, the London leg had us late because of the severe cold in Oslo and heavy traffic in London so we had to be in a full sprit to make leg two.
Unlike the trip when we went to the US last summer, we were all going on horrible sleep the last few days and literally none the night of leaving, so to keep Gabi (4 years old) in balance and ourselves is always a full focus thing on long flights.  You don't get to just nod out with a child (one of a 1000 new parent things I keep learning as I go)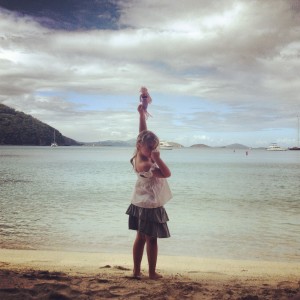 As luck would have it, LOL…(not) she fell deep asleep just as we landed. We were the last to get off and she was so out of it she had to be carried by Sunniva, and I had all our hand luggage. To make sure we saved on shipping costs, we packed as strategically as we could hitting every weight limit on checked bags and brining two each on the plane (6 HEAVY carry on that I usually lugged most of) so it's not easy to get on and off these planes loaded down like that with a child…BUT WE ALWAYS DO.
This time we had LITTLE TIME and security waiting for us to get off so the pilots and crew could (not kidding) …from here it turns into a scene from a bizarre movie because we were on hour 20 of traveling with 7 to go and DELIRIOUS IS THE ONLY word to accurately describe us.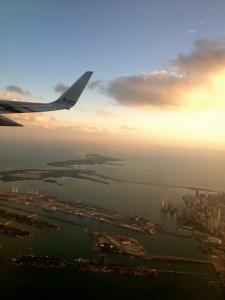 All passengers on the plane were long gone and we needed to get do different levels in the zoo of the Miami airport.  One lady got us a push cart for luggage and placed Gabi on top, she kept helping us get to the next area as I tried to sell two things. DELIRIUM from travel and a plane we had to catch!
We finally got through immigration and had to head through customs and security. Twice in Miami they let us through big lines by opening up a special one, for reasons I'm not entirely sure about.  Heavily suspect it was our weighted down look and a young one with not much room for error.
With minutes to spare we get on our plane to Miami with all passengers seemingly waiting for us as we shoved our hand luggage in the two spots left and the plane taxied off within seconds.
Every stage of this trip as I write in free flow has some funny incident.  Even pulling into St Thomas airport where my mom and taxi was waiting to take us to the ferry on St John we were yet again the last to get off and very casually strolling in on our 26th hour of moving across the globe we realized a Cardinal was on the plane from Boston.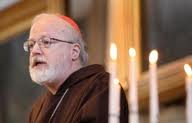 Semi-famous if you are keep your finger on the pulse of the Catholic church and he got off the plane and changed into full garb and had two priests and an entourage with him, we were 10 yards in front because it took so long to get off the plane and find our way to the luggage that we walked through a mob of people yelling for him, flashing signs, etc. LOL and we on our 26th hour grin at the absurdity of what we had just pushed through that day.
As strange as it seems, another day in the life for us, and one the three of us seem to handle so well together.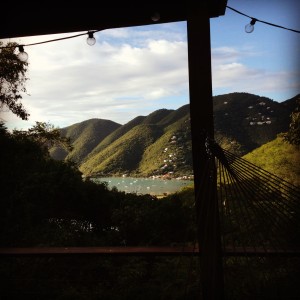 The ten days on the island moved fast. It's always been a destination I thought I could disappear to and open up a little shop I had loved it so much over the years, but seeing it through Sunniva and Gabi's new eyes (especially the child) made it a powerfully new thing for me.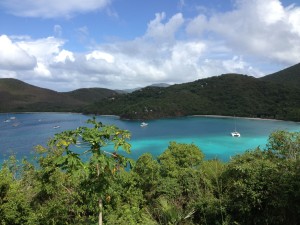 We slept well, we had fun, we swam and snorkeled together enjoying the extreme weather and emotional shift we had now entered.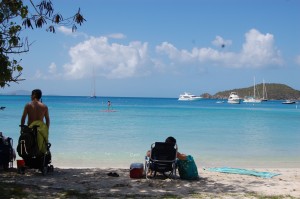 Our first week together if you remember was on the narrow boat in England (A Link on the Chain of Destiny)
and it felt natural our first week before mainland US would also be in "neutral ground" before embarking on this new journey.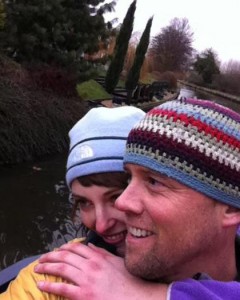 To finish up our travel stuff as were were leaving the Virgin Islands on our way to Northwest Arkansas, we ended up with only 25 minutes, while  in Miami as our plane was delayed on the runway enough that they had special people at the gate flagging us over like we were an aircraft to our next gate (thank God just 6 gates away or we'd have missed it) and those of us on this connecting flight were the final 5 people to fill up this big jet to Dallas.
We were getting close though…the bags weighing us down, the pressure runs between every flight, this was finally near the end.
Dallas/Ft Worth we had 2 hours and it was so needed. I got to buy a newspaper, all part of the one year process of completely unplugging I had not read one in over a year and man it felled good. For the sake of having one, I grabbed a Starbucks coffee and felt the weigh of the world off us.  Only one more leg and we were at XNA!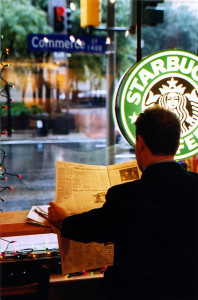 For the FINAL TIME we were the last to get off the plane and with Sunniva and Gabi getting in more appropriate clothes for the weather we walked through an empty XNA to baggage area and retrieve our 3 checked bags loaded to weight capacity.
For the final nail in the proverbial coffin of airport foul balls, we left Sunniva's largest hand bag lying there in the mix of excitement and exhaustion that held all her clothes, contacts, and important things IN CASE the luggage didn't make it…LOL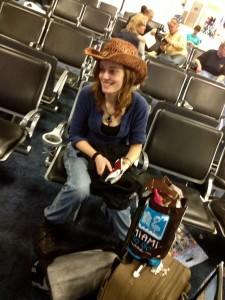 Oh boy, with a bit of panic the next night we did get the call back from XNA and they found it lying there the next morning.  A rare find they said, and we would pick it up the following day.
Yep, it's been one helluva ride man. All documented through blogs and other writings prior to us launching this site as we began to construct the idea of what Solgave would mean last spring in Sweden, and how it's slowly been defined into what is now Solgave Animal Solutions.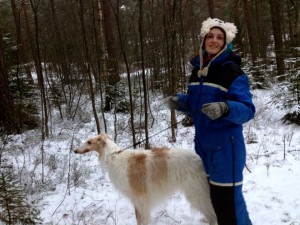 This chapter is a very new one for us.  The excitement in Sunniva's eyes yesterday to get time with dogs at the Grove Humane Society (staying here for a couple months at a family cabin while waiting on our move to the market where our business will be, and the place we'll call home)  that others cannot walk or are limited on ways of adopting because of aggression was solid gold.  It's been a bit of time since she's been in a shelter and knee deep in red zone cases.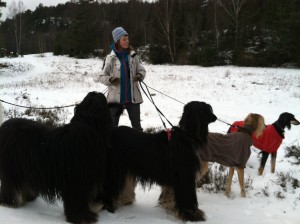 Her instincts as I've written about before (and will do more soon on our Solgave Animal Solution site we'll have up in a few days) are ones you are born with (or not). More animal than human in some ways, Sunniva is not a dog "trainer" per se' but more a dog (animal) behaviorist (who will hopefully work with the many dog trainers in the area on some specific things) dealing with energies/instincts/etc.  It was our vision after a lot of market research that we could combine by business and psychology background and lifetime with dogs in my life to finally have our first real business together combining our passions/energies/and strengths.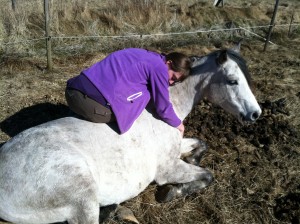 We still desire to see get into therapy dogs and some of the treatment side of Solgave in the future, but we have to take slow steps and stay driven with a baby born this year (the miracle I never thought I'd have) and getting Gabi assimilated from Norwegian culture into the US as she starts school in the Fall, and that means following through on the model we've been spending months of time preparing to bring from Europe to the US.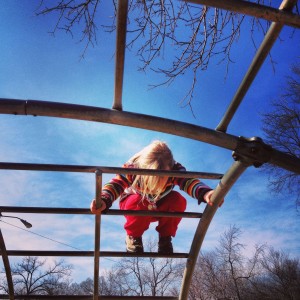 We have so many exciting things in front of us to share soon, but I look forward to HER VANTAGE point on many things in the US culture as I got a very powerful chance to reevaluate my own views on so much of the world and myself with a year of living in a fairly remote part of Sweden with no television, traditional media, and those other 5 things I wrote out on paper I would stick to for one year to be able to document personal growth.  I'll always suggest to someone tiring of the US, to try to get away for a year.  Nothing can replace appreciation like a full year away in a land where you are the minority, some language barriers, and powerful geography around you to touch the soul.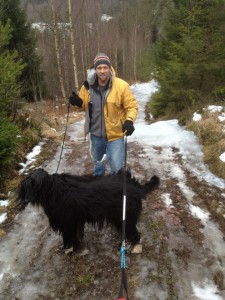 First blog since before leaving Europe, and we hope to do most of our writing on blogs related to the business but will always keep 2-4 a mont on life changes/observations/etc on our Solgave site.
Grateful to be here and look forward to seeing what's around the next corner!
Please follow and like us: