Faith Restored in Humanity- A Deep Thank You…..
It is one of the most beautiful compensations of this life that no man can sincerely try to help another without also helping himself.
–Ralph Waldo Emerson
When Albert Schweitzer said, "The only ones of you who will be truly happy are those who have found and learned how to serve," he was stating an ancient truth – that the meaning of life lies in giving. The quality of your life is in direct proportion to your willingness to give.
I wanted to take time to share a story about one person and his willingness to give.  It would be an easy assumption by me that this one act of kindness is not unusual for this person. He's a man with so many traits I will strive to hone.  A family dynamic my wife and I really admire.
Later in the blog I want to share the brief story of how one man's prayer request and answer he got led to what is sitting in our driveway, but I want to begin with some other examples of how a giving nature, a helping attitude can change lives.  Mine has been touched by so many, and a time to reflect on those felt important this afternoon.
My stepfather's dad was a fascinating man to me. I remember being a young boy and asking him questions about his life and listening to his stories that he shared.  I was the youngest of the grandkids and a new "step-grandkid" to boot.  But Mr. Adair was a neat man with an interesting life… a track star at OSU in the 1920's, candy salesmen who with Brach's would quietly and frugally make himself a very comfortable life.
He told a tale where he one day was in the 5 and dime on the square in Bentonville talking to his acquaintance and customer Sam Walton about how he should stack his inventory high, and sell it cheap.  We know how that story turned out for Mr. Walton regardless of the level of truth.  This is a man not known for telling tales, but I think it's charming and neat to pass around family conversations true or not.
In 2009 the person holding the trust decided the 5 grandkids would get some checks each year from that to enjoy how they wished.
It hit me a lot over the course of this year that without his and my Uncle that manages that trust account's act of "giving" I would not have met my wife.  With the one that came in Nov 2011 I had my trip to Europe to do some soul searching at the end of a long relationship already planned.  As the world now knows my meeting with Sunniva was more than we ever imagined and this soul mate I share a life with, I do owe gratitude and thanks for that even being possible.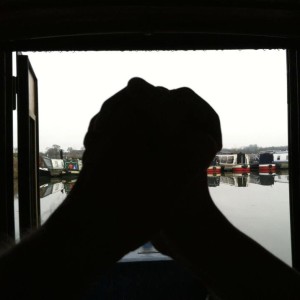 That same bit of money, allowed us to visit the US midsummer of my full year in Scandinavia…we sort of assessed what Solgave could do here, how would Gabi and Sunniva like it, and a great chance to see my family and friends.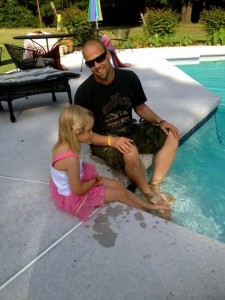 It also allowed us to move back here to the US, with the help of another friend of hers who loaned us the money to get the dogs flown from Norway.
With the loan my parents gave me once in the US we were able to move to Fayetteville, file the very expensive fees for the VISA process for Sunniva and Gabi, and get the ball rolling with SAS.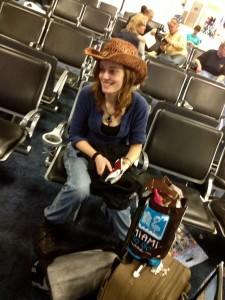 Now we likely get to go back to Norway to see my wife's family this winter,  and get a much needed dose of her homeland as I myself would have taken once a year to keep my culture in tact.
Yep, this gift also helped us pay for his home birth. So in many ways, my son's life is owed to the kindness and giving nature of a couple people.  Powerful to think about it, and really helps me understand that when I decide to help others, and give of myself I can actually change lives in big ways.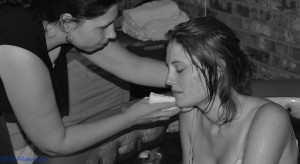 Once we were here, the natural birth community flocked to Sunniva and bombarded us with clothes, cloth diapers, pre-folds, car seats, on and on.  We traveled light and had very little in the beginning and won't ever forget what the kindness and giving of those people meant to us.  I know we'll pay it forward in some way and that's what giving to me is about. Not having an expectation of something owed to you (that's self-seeking) but real giving with expecting nothing in return is so powerful.
Now, what inspired this blog is what I wanted to finish with.  My wife has still not fully disclosed what she did in terms of my 40th birthday that is approaching fast.  I knew she messaged a bunch of people, and honestly had something very different in my mind. LOL.  I thought maybe a video of people sharing a memory of me, or something.  It seemed like she picked people who had inspired me, or I kept so dear to my heart in some way…but again, I don't know for sure.
I thought MAYBE a used road or commuter bike of some sort as we are trying to do more pet sitting on bikes to help me get in shape and live our no impact desire we want to get towards.  While uncomfortable with the fact that much attention would be on me, I was trying to not think about it much. I love to express, I write a lot, I share my heart but I'm still a bit of a paradox myself because I'm not comfortable being the center of attention.
She says to me after a really tough day, "We need to go somewhere and I'm blindfolding you." I reacted a bit harshly…LOL. I didn't know what she had in mind, I was tired, confused, and frankly it was so shy of my birthday I didn't see the point.  She kept insisting, "Just trust me."
And while I talked her into waiting till the next morning, I agreed.  She insinuated it would help out our busy times with work coming and that is why the rush on this gift.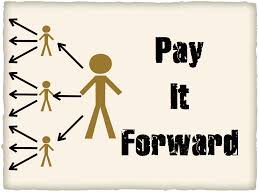 So we headed to an old friend's house, one I had seen only one time over coffee in more than ten years. A man I looked up to probably more than just about anyone. We spent a lot of time together training, running, and being in nature for a period in the early 2000's…and his words of inspiration and his thoughts on the world were just ones that resonated with me deeply.
Outside we see a car.  Today we are calling this vehicle "5.0" because it was a Bentonville Police car at one point! I was trying to not get emotionally overwhelmed by this act of kindness. And struggling a bit, but doing my best to hold up good  as we briefly met his family. One daughter who was just a baby the last time I saw her, along with his beautiful wife and their furry kids.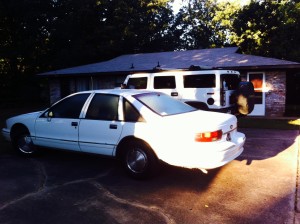 Now here's where the touching part of this comes in.  I'm using one part of a message from him and will put here.
"I recently had good news in my life and am required to pass that goodness on. I said a prayer wanting to know how I could share Gods graciousness in my life to someone who is so deserving. I found the car and then saw Sunnivas request to do something for you on your birthday. Her love for you was heard by God, whispered to me, and through God was able to pass on to you that God loves you, he sees you, believes in you and cares about you just as much as the rest of us,"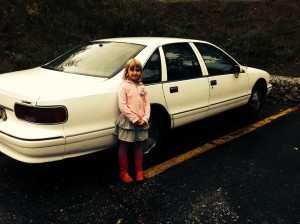 So this man went out and found a car that he intended to give with no strings attached to someone deserving. Right behind doing that my wife sent a big message on her vision for something (still not sure how she posed it) unique she wanted to do for my 40th.  It became clear to him this was not a coincidence and without flinching he asked her how our transport was. Remember he just got this car to clean up, get running great, and give to someone.
Sunniva responds we own no cars, Jared's family have loaned us one we have to give back, and our last car that we had we needed to sell to make it through the summer to keep our dream alive.  So we have the most impractical car for running around town for pet sitting.
Again, no coincidence to him or to me.
This man who could have hired someone to clean it good, did so with his own hands. Scrubbing the seats, the tires, and more.
New tires were put on, new battery, full tank of gas, and 100$ in an envelope for tags and such.  My tears I was having a hard time holding back.  Yes, 5.0 as we now call it is a great second car to help us with our business. Not just great, perfect.  When the time is right I can't wait to do these types of things for others.
To know people out there are always seeing that if they get a good set of circumstances they need to pay it forward is how karma works.  It really has had a profound effect on my entire family.
We have 40 pet sittings or dog walks this coming week and could not have achieved it without a second car.  Thus my wife's excitement to have it presented.
The world is full of good people.  People who live by a code that if they get a set of good news or fortune it's important to pay it back into the universe.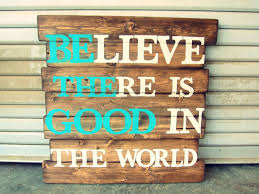 I am honored he chose us, honored he is my friend, and living the pay it forward philosophy as my thank you to him I can only hope is enough.
He reminds me that to be self-critical is the same toxicity as arrogance.  He's right. I keep working on knowing I deserve happiness, that I can accept things and feel good. That it is the laws of the universe I do believe in, working.
Thank you to everyone along the way. Our business is growing, our family is growing, and we work through tough days with courage and dignity.  We certainly needed help along the way and got some nudges from some very  special souls
Please follow and like us: