Children – The Greatest Teacher's We Can Ever Have…
Children – The Greatest Teacher's We Can Ever Have…
This was my first Father's Day in the United States (celebrated on different days in Sweden and Norway) to be recognized as a father.  The power of the pending arrival of our baby adds to the depth of what the role means to me personally.
It's no secret that I've had a deep-rooted desire to become a father as early as I can remember.  My first few years of undergrad work was focused on Early Childhood Development in Psychology and what started as observation work led to 3 years of being Mr. Jared to 4-5 year olds at what was then Fayetteville Daycare and Preschool.  That was something like 16 years ago, but still very fond memories to me.  I think it was cemented during that time by my own thoughts, the director, and many parents that working with kids in some capacity must be part of my future.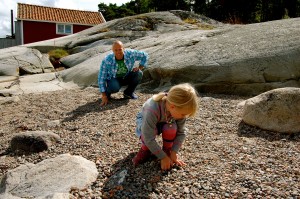 Life for me was not, is not (to be honest) always easy, but it's rewarding. It's a path of growth, of assessments, of evolution of the mind/body/spirit…and that change always requires friction along the way.  Somewhere along the line I realized what was easy for me to do was perform.  Achieve sales goals, drive teams, and inspire those around me even if I was drowning personally.  See how to connect products to the group of people benefiting from them. See how to enrich cultures within organizations.
Where do kids play into this? I surmised that having my own one-day would be where I could fill this void, where I could take this part of my destined path and live it.  The problem was that children never came.
My blog's are always personal, honest, and just one man's perspective about the miracles, mysteries, and changes that come from life.  Always feel a need to plug that in from time to time.
So in my last relationship, one that lasted almost ten years children never came. I don't touch deeply on aspects about that relationship, but I have talked about what I learned from it, what changes stemmed because of it.  I think like anything in life, if we look at what we can learn from our past, our future has so much more hope.
This brings me to the point of today's thoughts regarding children and how they are our greatest teachers.
Early last year it became clear Gabi would be part of my family, a child I had so wished for.  Our evolution has been powerful.  She could not speak English when I arrived, and while understanding me a couple months into my stay in Sweden she could not talk back yet in English. It was those early rides home from her Barnehagen when I needed to pick her up that the language barrier became so interesting.
Remember I had been around children in large numbers during the "Mr. Jared" years but I had never worked through language barriers with children.
This was the start of what I see being a lifetime of lessons from the children in my family.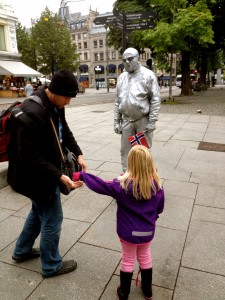 The 5 year old we are rearing is incredibly gifted. Dramatic, charismatic, engaging and hard headed.  Whether it be boundary testing or the morning cuddle and love time that melts your heart, the LESSONS are the same.
I think it's the toughest times, I find myself learning the most. It's the most challenging moments of being a parent with hindsight I am almost most thankful for.
Because when we are in a good place, a place of balance and well tuned insights, our children's stumbles (literally Gabi took a stumble or two this week, one was touching a hot burner and getting her first real burn and tough pain that first night that kept us all awake/together) teach us as much as their triumphs, and their joys. Getting to see her work on riding a bike with no training wheels, taking her to get her ears pierced and see the pride of not crying, the first time she spelled her name, the questions that make us think/relearn so much about the world around us are equal to the anxiety we get over the risks they take, or their mistakes along the way.
I have pondered a lot the last few months, weeks, and days… in particular the journey to get here, and the tremendous amount of change that life can bring our way when ready. It's really the eyes of the parent and how it sees through the child and thinks about them first that is all that was left. As it turns out, that's certainly what matters most.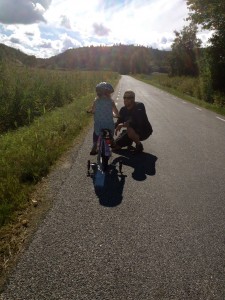 I'm grateful to have lived full out the first half. I'm grateful to have no curiosity about the other side. Been there, done that, and hope to write a book one day…. but from here forward it's Jared the father that I am getting to know.  There doesn't have to be a compromise to our uniqueness, our individual essence, but it certainly grounds you in the most powerful way imaginable.
My son or daughter that is due to be born any day is going to allow me to continue to heal, learn, and grow from things I had missing in my own childhood or pains I had left untreated.  I'm already experiencing these lessons every day with Gabi.
I want to give her all my attention when I'm home, and it's hard to balance out the needs of your business and the attentiveness the child deserves but I think we are doing a good job.  Our business, Solgave Animal Solutions, was designed to be a family business that would mean I wasn't gone "at the office" 60 hrs. a week to afford us luxuries that in many ways drives you apart. (That time away each week)
We knew it wasn't the easy road, but we both stand by the values and lessons that Gabi is already learning about life by watching us dare to dream so that we as a family can spend so much time together and at the same time educate her on her own capacity to dream.  I still don't know what Solgave looks like in 5 years, but I know what our hopes are.  Every day we navigate the current of life with as a deep willingness to not fight it, but learn from it and flow with it.
I know I have sleepless nights ahead, I know I have stresses about creating enough revenue to get through the next month as we keep stepping towards our dreams, I know I have a child who will stumble…children who will stumble.  I hope they see me as a parent that humbly keeps learning from them, and never appears to know all the answers because that means they'll likely quit asking me questions.
We are the ones releasing the arrows that are our children. We are potters with this huge responsibility that is the clay on the wheel…to carve out a life for them that has value in the ways we hope can help them find their true calling, their life's purpose.
Yeah, Father's Day was interesting for me, as I thought it might be the day my son or daughter was born, and continued to recognize the power of surrender in terms of this natural birth we are having at home.
Surrender is a great word in terms of being a parent too.  Surrender to the experiences and things my children are going to encounter, and choose to learn from them, see the good and the bad as equally valuable in terms of what I can gain from it as well as them.
I think if we see life early on as a remarkable canvas with so many colors, and wake up with a humble heart and courage to keep stepping, then our children will possibly do the same.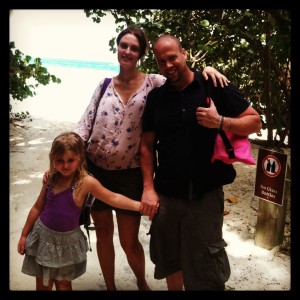 **(Seeing Gabi clap after reading this blog is one of those smile moments you cherish, balanced by the hysterics of dogs barking at a squirrel in the yard, and my wife trying to not laugh as I seriously do my family reading to get approval to post and little G is walking around with cranberry juice in a wine glass saying "I am listening" LOL) I lOVE MY GIRLS!
Please follow and like us: