(Part 2) Becoming a Parent- A Role I Almost Gave Up On…
Becoming a Parent – A Role I Almost Gave Up On…
This is the second post of a four part series about creating happy homes during the holidays.  The series, Happy Holidays in Happy Homes, is a collaborative effort between Angelique Felix, Laura Hutchison, and myself.  You'll find out more information on this project here (Finding Your Soulmate and Love) 
Angelique did a wonderful job in part one of our series  (Click Here)  describing how her daughter is the best mirror to help her learn about herself.  It's clear her six-year-old angel is the greatest teacher she's ever known.
 'Chanel broke down the walls I build around that tiny little girl inside of myself. She made me start playing again and especially to slow down.'
Laura did an incredible job reminding us that parenting begins when we ourselves are children in her blog (Part 2 – PlayDrMom) She takes us on a remarkable journey from childhood, to preparing her own first family with a deep commitment from her Soulmate, to the processes that continue to this day with both of their children.
"I don't think of becoming a parent as a single, one-time event.  I believe it to be a process.  It's a process that starts when we are born.  We start becoming a parent when our parent "parents" us."
The first part of this project for me was a powerful reflection into the eyes of a woman I thought I'd never meet.  An understanding so deep, I was not ready to face it until the end of last year.  As I wrote in last week's blog 
"It meant finding the one who understands every fabric of my being, the one that compliments me in every way you should, and the one who mirrors the aspects of myself I normally would not dare take a deep look at. Would not dare to examine and heal, until now…"
Where this journey took on a sudden twist of fate that I didn't see coming was not just finding Sunniva as my life partner, but finding out that the role of step dad lay ahead with her four old daughter Gabi.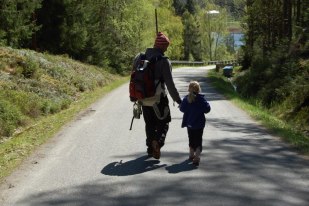 As I was about to realize the real "Link on the Chain of Destiny" wasn't the beginning of this fairytale romance, but was the beginning of my journey into becoming a father.  That link was the one I was born to become.
Most of my life I had thought about becoming a father, especially since a special three year period of my life during my early twenties when I was working with 4 and 5 year olds while doing observational work at a daycare facility, and loving the role of teacher so much I stayed on 3 years.
For what I would call divine reasons, this role dodged me for about 15 years even though it was always on my mind.  The universe or guiding force certainly knew it was best to wait until the timing was right.
After a long relationship and many years of believing I likely could not have kids, I had almost given up on the idea of what I feel is the greatest purpose we have on the planet, to be a parent. When my 7-year marriage ended and Sunniva and I began our powerful journey we both new deep in our hearts it would center around "family."
From the beginning we talked about children. Adopting was going to be a very real possibility for the new additions to our family based on my past and lack of belief that it could happen, and we set our sights on raising Gabi and all to follow with authenticity, honesty, passion, commitment, and courage as part of what we held dear to our heart. It's our strong belief that by showing these things in our own relationship they will develop the same aspects within themselves.
I wrote a blog called "Dear Gabi and My Unborn Children"  on a day when the idea struck me while driving into Stromstad that if something were to ever happen to me I'd love to have some things down that they could glance back at.  Some bits of wisdom from my heart to their hearts.
Written ten years in the future and having an order of Gabi, then an adopted son, and finally a late and unexpected biological, I got to explore all the things that I hoped might touch them in some way and let my role as a parent transcend this life.  The reason I'm sharing this again is because of the powerful timing of when I posted it.  I had no idea Sunniva was pregnant at the time I wrote that.
Several days later, she would tug me and say, "Jared, I think I'm pregnant."
"Sunniva, no you are not." I would respond.  "Yes, I am" she would say with defiance.
This wasn't the first time we had gotten our hopes up and my defense mechanism of protecting my emotions was high.

She had me run by the local mall to pick up two tests.  Something was indeed different in her voice this time. I still did not want to believe it, even as I rode the escalator to the top level of the mall with Gabi holding my hand.
After we finally arrived home and she had time to slip away and take the test it was if that  moment in  time, as I knew it, stopped.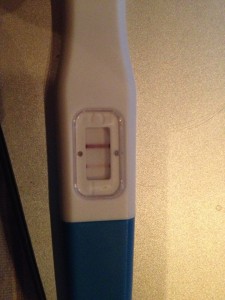 "I'm pregnant," she said quietly.
"No"…I stammered. "No!!!" tears welling up in my eyes.
"Sunniva, no you are not." The emotion was so palpable even writing this now I can hardly remember the intensity of my emotions.
Studying the line and its faintness, going to Google and cross checking it 100 times it finally hit me.  I was not only blessed with the most amazing stepdaughter on the planet with this new journey of love with my soulmate, but also just found out that we were going to have a baby. A baby that I never believed I could have.
Describing the intensity of my tears, the power of our emotions is hard to capture in a blog.  If you have followed the Solgave story, it's one you can at least imagine.
Yep, I was becoming a parent in every sense of the word at the time in my life when I was ready to do everything differently.  Sunniva, Gabi, and our unborn child are all teaching me everyday what it's like to "be me."
My time with Gabi is as precious as can be. You have to remember that with me landing on a tourist VISA and her only being three years old, the first several times I picked her up from school she could not even communicate with me.  The connection was strong from day one, as this powerful spirit of hers grabs hold of everyone in her line of fire, but the language barrier in the beginning was a challenge.  But a challenge that we both embraced.
Those quiet car rides home where I knew she could understand me, and yet not have the courage to speak back yet seem like distant memories.  We have now been to the US for 21 days this summer. I have since married her mom. And Gabi is now fluent in English.  She's one of the best friends that I have in life.
I had to be creative in reaching her in the beginning.  I would talk to my own hand in funny voices in the car to create a natural energy and sense of trust.  I talked to her as if she could understand everything I said and realized with the look in her eyes, that she did.
It was not long before family members of hers were raising eyebrows in disbelief at her rapidly expanding vocabulary.
My god, has this been an amazing year.  Thinking back to the first part of this series, "Love-Soulmates)  and just how much has changed in our life since the day we finally hugged at Heathrow airport is mind boggling.
Ten months doesn't seem like long in the scope of life, but what we as a family have already faced has provided me with decades of experience and growth.
Becoming a parent is the greatest gift I've ever been given. Becoming a parent is the greatest honor I've ever been given.  Becoming a parent is the miracle I almost gave up hope on receiving.
While Angelique and Laura have tremendous insights and lots of years to use as their perspective on parenting this role is a new one for me.  While new, I feel I was preparing for it the entire first half of my life.  Universe was waiting till the right signal, and then "Ask and ye shall receive."
It's unfolding in real time and the blessings, the wisdom, and the powerful appreciation for what becoming a parent means is only beginning.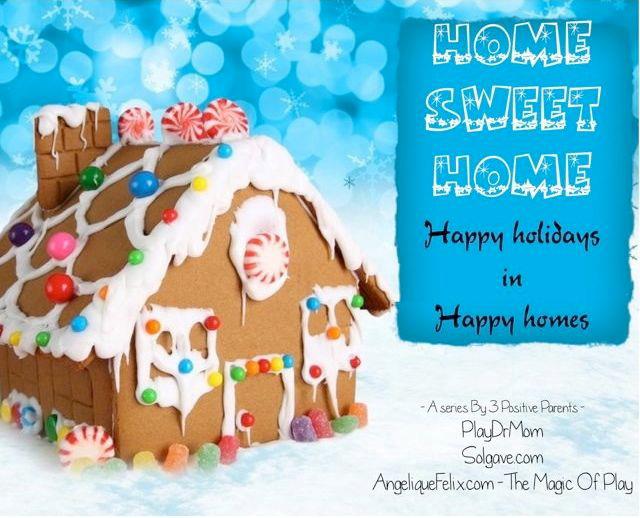 Introducing – 'Home sweet home' – A collaborative writing series that explores parenting through the holidays, and how we can create a loving, happy home.  (series)
My writing partners Angeliquefelix.com  & PLAYDRMOM want to create some holiday excitement for you and your family!
Not because we' ve found the key ingredient for what happiness in the home means, we are sharing very real perspectives of families that have both good and bad days.   But we not only have a deep belief in our families, but value a life of play, love,  and connections to each other.   Never losing sight on what matters most, that happiness around the holidays is built on a foundation of things that you cannot buy with money, but experiences, laughter, and love that have no price tag.
In the coming weeks as we  approach  Christmas, we   look forward to sharing some hands on,  real life experiences on the following topics with you:
Monday 12.11.2012: Love – soulmate
Monday 19.11.2012: Becoming a parent
Monday 26.11.2012: Creating a Family
Monday 3-12-2012: 101 ways of staying Happy
The series will be brought by you by three blogging parents:

AngeliqueFelix.com – The Magic Of Play is on a mission to bring play back in daily lives through bilingual songs, movement & creativity. Angelique teaches 0 to 6 years old in Italy, but comes from the Netherlands. She is a single mom loving passionately her only daughter Chanel every day. And she thinks it's strange to write about herself in the third person.

PlayDRMom is a mother of 2 and a clinical psychologist specializing in children and play therapy. Her blog is dedicated to promoting the importance of play and strengthening relationships with children.

Solgave.com is more than a blog, it's a unique philosophy of life shared by Jared, an American now living in Sweden, and his wife Sunniva originally from Norway, and her 4 year old daughter Gabi, as they navigate the waters of life by focusing on the core elements that define them. Nature, animals, families, travel, healing, and overcoming obstacles are some of the things they share with passion.
We would love  to have you join us on our journey towards Christmas, please come back next week on one of our blogs!
Please follow and like us: