A Glance Back Over My Shoulder and the Walk to Gabi's School
I used to look back a lot – at the past few days, weeks, months, or years.  I think my own personal desire to journal since I was ten has helped my natural wiring about personal changes and growth find it's way.
Likely for some, the record seems broken so to speak… because so many layers have to overlap from time to time in regards to these blogs about my own journey.  Deal with it. (This in itself is growth for me)
So yesterday was another typical day in the life for us. It was long, filled with unique experiences, emotions, and so much more.  It wasn't the reunion with the other moms and dads from our birth class, although that was amazing to see all these people on the other side of this journey we took together for months.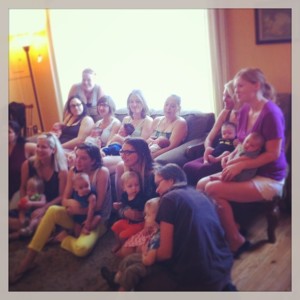 It wasn't the fact that after two good walks in a row my wife and I had covered 8 miles and both finally felt like the fitness we love is on its way back after having to neglect that part of life with baby, business, and pace.  It wasn't the new client we grabbed and great dialogue I got to have about our dream with her after the final visit before she left to go on vacation.  These were all cool experiences in the day for different reasons, but it all pales in comparison to walking with Gabi to school to meet her teacher and see her classroom at Root for the first time.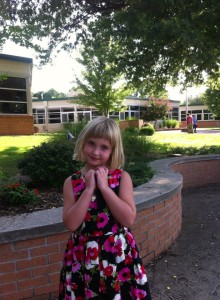 Who's more nervous and excited, the kids or the parents? To be honest I'm not sure. I think the new parents really gravitate to each other because you sense the palpable excitement from them.  I have to imagine after it's your second or third the buzz of excitement doesn't change, but the familiarity of the process may take the edge off.
Make no bones about it; this might have been the coolest moment in my life. Okay, wait a minute…I did just catch my son at home 8 weeks ago, a son I thought I'd never have…but this was a different type of moment, and a powerful one.
The walk to Root from our house is like something out of an American movie my wife said.  This day, this unusually cool August day made is magnified.  The air was crisp and just perfect and the sun was shining bright. We've seen temperatures 20 degrees below normal this week so the walk itself was so cool.  We live .67 miles from the school.  We logged it and now know Sunniva and I can get 3 miles a day just by walking her to and from school.  Bonus miles – score!!
So with her little dress on that she picked out and her mom and I walking her I'm suddenly realizing just how much  my life has changed.
This is when I start to tear up just writing this out in the pre dawn hours.  Deep breath.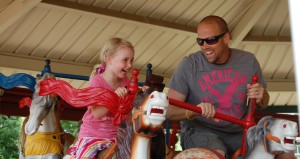 As  I stated in the beginning looking back is something I do a lot as a self-actualizer, as a guy trying really hard to become somebody I am not yet by just desiring to forward motion…but I haven't lately. Since Neo's birth I have not blogged much, written in journals, or even had my normal time in the morning to read some spiritual/philosophical musings that start my day. All parents of newborns know routine is out the window. It becomes about embracing the chaos of unorganized routines.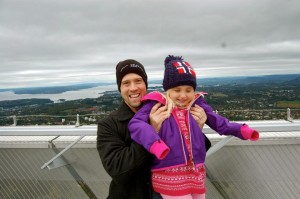 But on that walk, and on this early morning I do reflect.  2 years ago today where I stood was so radically different I can't really believe it's real sometimes.  I might have looked different, my hair may have been dyed blonde,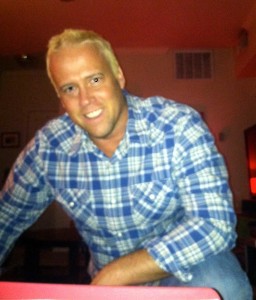 I think I was still in good running shape from the summer (which I would lose again with tough emotions that Fall) but those that know my full path (and nobody really knows your full path, but some know deeper aspects of it) but my god have things changed so.
I am reflecting this morning, and it's powerful emotions.  (tears)
Three more really tough months lay in front of me, and somehow I held on through it all.  One day that story will be told when the time is right, but just know that I'm not sugar coating it when I say it was not easy.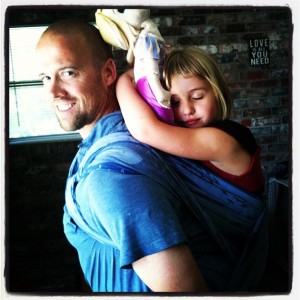 But what I started to do in early 2011 was write about in my journals the changes that I knew were coming.  It meant epic changes.  My life, my choices, my relationship that had gone on too long.  I was standing in a room and nobody saw me, and that hurt really bad.  There is an intrinsic need for one to be understood by someone.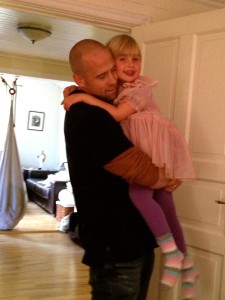 "Happiness is only real when shared" – Into the Wild.
So as I slowly inched towards the leap that I would make (I have journal entries from January 2011 that I suspected 2012 would be in another country, but I had no idea it would be Norway/Sweden) , my wife appeared to me in a tiny moment in time as I had a move across the US and divorce looming.  We were both in a spiritual group called "Shine On" (inspired the blog "The Shine On Experience") with a very mixed group of people from  around the world.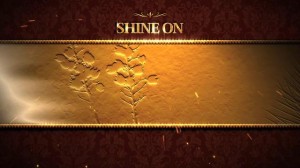 She is the only person I handled with grace, respect, and deep caution. I was so empty for so long I used emotional connections with people as umbilical cords to hold on.  People would often get caught in the tornadoes that was me, and I certainly hate feelings that got hurt along the way but that's a blog for another day.
I, even sensing a deep soul connection with Sunniva, dare not friend request her for even 8 months because I knew the timing was not right.  We did not even see each other on Skype or chat until late November of 2011, a few weeks before I was completely out of Texas and on my way back home.  My trip and plan to go to Europe was already made as a soul-searching experience alone.  That shifted quickly though and I'll end that part here because there are enough blogs about love for my wife. (Two Perspectives of One Love Story)
This is about the love for her daughter.  I first saw little 3-year-old Gabi, a Norwegian with no English skills via the cam on the computer and the only words I could think of were "Yo Gabba Gabba" because of the popular cartoon. So we would say those words back and forth.  "You Gabba Gabba" No YOU Gabba Gabba." I remember it so well.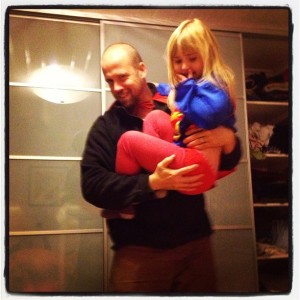 So the rest of the story is all documented about how I got to Europe, our holiday on the boat, my delayed flights, my VISA journey, our desire to start something that was a combined essence of our souls and the birth of Solgave, and more. What might not be as well documented or expressed are my feelings for this little girl.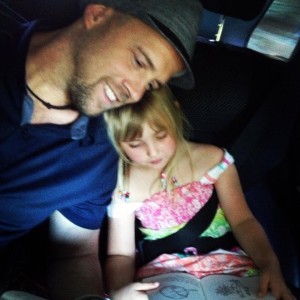 I have dreamed of a family my entire life.  During periods of my late 20's during a particularly self-destructive stretch I remember thinking that I WISHED so badly a child would come.  Even prior to working with kids for 3 years at Fayetteville Daycare and Preschool during undergrad years, I just knew the "dad" in me was thick.  Yearning to come out.  Yearning to see the story turn out differently than mine.
But I know I wasn't ready, and I know every crash and burn, every mountain I've climbed was somehow needed to get me where I am today.  For fuck's sake! Look at where I am today man. (grinning)
My wife has Neo wrapped up as she always carries him close, I had Gabi's hand and we passed a lemonade stand on the corner before crossing Old wire to get to the school. Cars were everywhere. This was a big day for so many.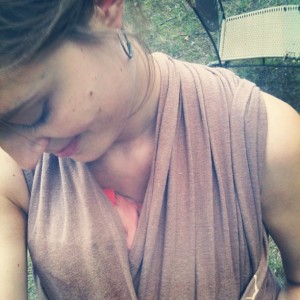 So we go into the room and meet her teachers aid (who is equally special as the teacher she has) and her teacher, and glance around at the room she'll spend so much time in for the next year.  There were just a handful of kids and parents in the room at that time but even within that tiny number two or three Gabi's were there.
"I love your necklace, I have one just like it at home" one girl boastfully went right up and grabbed it without asking. LOL.  Oh  boy, she is going to feel at home isn't she.
A particular favorite set of parents who seemed equally nervous and concerned with the details as we did. "When does it start again? Do they bring the supplies on Monday or the mixer on Saturday?" "Which lane are we in for pick up?" "How does lunch work?"
Holy shit you guys, I am a real parent.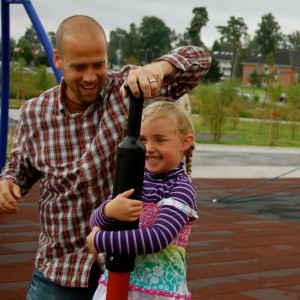 Yeah, the walk back home was literally like something out of a movie. The lemonade stand, the family and the dog playing in one yard as we made the trek back towards Broadview and up the hill to our house., all seemed so surreal to me.   Everyone knows just how much the weather felt like fall yesterday, and can imagine how it added to the magic of this experience.
I can't wait to visit with her teacher, and meet other parents, and share in the joys and the nervousness.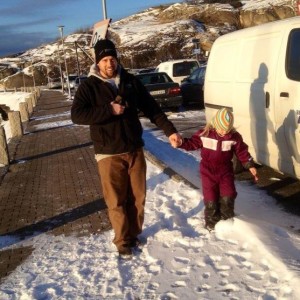 We have to get into routines again! Morning eating time, bedtimes more strict, because she needs to rise early and be rested.
Our business now FINALLY also has big gaps of time mid week where we can work together while Gabi is also being fulfilled.
Two years ago I was in a bad spot, and as I sit here this morning I have a baby boy nursing in the dark with my best friend, his mother, my wife. I have a 5-year-old stepdaughter who is so like me it's scary.  The drama, the acting, the athletics, the energy, the passion is all recognizable.
Perhaps the universe allowed that to happen to cement our relationship. Mixed families can be tough on kids if not presented and handled right.  I love her so much. There is and never will be a difference to me between Gabi and Neo.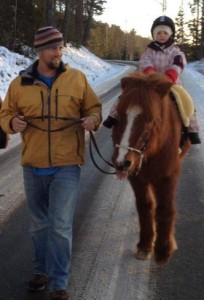 They both are big healers for me.  They both are part of this new journey of life I never thought I'd see. I had actually given up completely on this concept happening.
Tony Robbins speaks of these moments of time, these decisions that shape not just our lives but also the world around us.  A tiny decision differently in early stages and some companies would be completely different.  Most people completely different.
What if I decided to go to the islands in January 2012.  What if I did this? What if I did that? How would my life be different?
I have a family today.  A real family. And you know what, they all really love me. They love me for who I am today, not where I was or what I did in the past. Children and animals only know the present. It's part of the miracle and joy of both.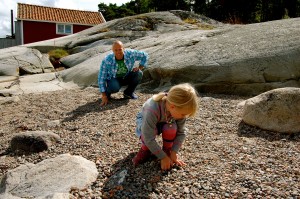 This may be the most unorganized set of free flow thoughts ever in a blog, but if there is any main point to pull from this it's about capacity to change, it's about how decisions can effect your life in paramount ways, it's about holding on and never losing hope.
I am so proud of this little blonde girl entering school on Monday. She's going to change the world in some ways, and likely leave a big flame behind her.  My hope is that her and Neo find their way without having to fall as many times as I.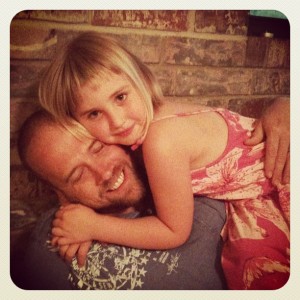 I think as a parent who's struggled or faced tough things, it's your hope that in some way you may save your children some trouble.  Ultimately you never know, but I know that if our family stays honest, courageous, and strong then our children will reflect those traits.
I don't know what country we'll call home in ten years, our dream is still to build Solgave to the point we can split time in both for the sake of our children, and our respect for each other's countries, families, and  capacity to extend the reach of impact…but who knows and who really cares, because today is what is real.
Today I have a beautiful 5 year old, an 8-week-old son, a wife who is my eternal companion/business partner/best friend/ and a business and brand  I am really  proud of.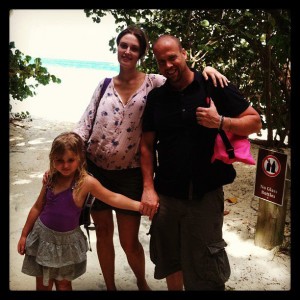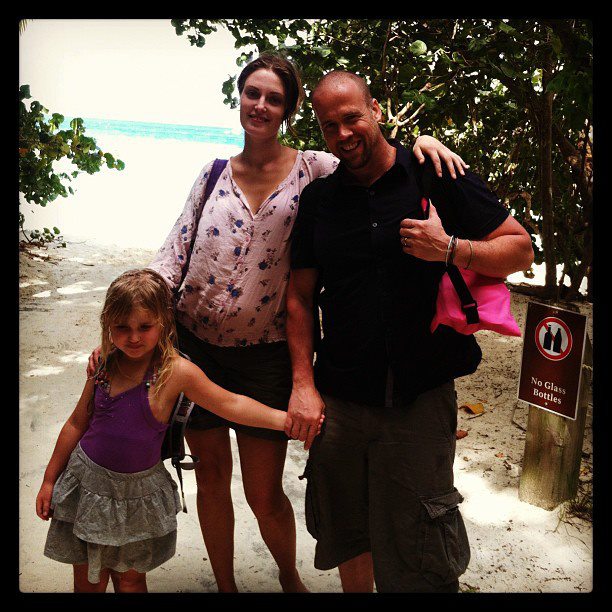 For those that desire change, my advice is to journal a lot.  Follow your thoughts, prepare and get ready.. and then with deep courage make a leap, and with enough faith, that net will appear.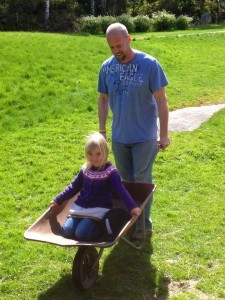 It helped me to write out a code of conduct- a manifesto, and I did just that at the little cabin on the lake I stayed at before leaving.  And you know what, I've stuck to all 6 things ever since writing them down.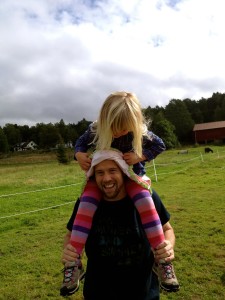 One day at a time, one struggle (those are really lessons and teachers) at a time, Sunniva and I both are in such radically different places it's no wonder some of our family or friends were a bit suspicious of our union in the beginning.
"Yo Gabba Gabba" "YOU Gabba Gabba"  And the world spins madly on.  Have a blessed day, and realize the flip can be switched when intent and action meet determination.  If I made it out, anyone can……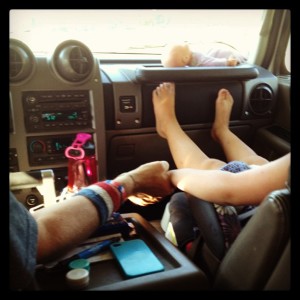 Please follow and like us: