101 Things that Make Our Family Happy During the Holidays – Part 4
This   is the final post of our  four part series about creating happy homes during the holidays.  The series, Happy Holidays in Happy Homes, is a collaborative effort between Angelique Felix,  PlayDrMom, and Solgave.  
We are now at the end our month long exploration into parenting, love, family, and the holidays.  In this final collaborative post all three of us – Angelique Felix, Laura Hutchison (PlayDrMom)  and myself – each share activities with you that keeps us happy as a family. It's often the most simple things that can create a loving, balanced energy in a home with plenty of laughs and activities to share along the way.
101 Things that Make a Happy Home for the Holidays
Solgave is in essence the union that is Sunniva and I.  We decided on the last part of this project to split the 33 things that we are coming up  with (You'll find the other 66 with our writing partners Angelique and Laura) that make our lives this holiday season happy, by sharing 11 from myself, 11 from Sunniva and 11 from Gabi.
We hope you find something to relate to from one of us and are grateful to share these blessings from our family to close out the "Home for the Holidays" project with Angeliquefelix.com and PlayDrMom!
 Gabriela is sharing her 11 favorite things with you.  We are a new team, but a powerfully driven one in receiving input from each of us as we grow with this new family.
34.  "Gingerbread cookies!" (Which we made yesterday  from scratch at her aunt's during a family baking day, and the kids are an integral part in the baking process! Much like the holiday rolls that get passed down generations at my family, gingerbread cookies here in Norway are recipes handed down several generations and they are literally some of the best in the world!)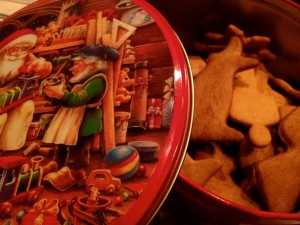 35.  "My yo-yo makes her happy!" (Playtime with these simple, handmade toys can be some of the greatest times that we have.  Sustainable, and hand made items we strive to use to set a good example and always be teaching about our impact on the Earth)
36.   "The cats, bunnies, horses, and dogs!" (We get to use our animals around the house to enjoy laughter, learn from watching them, and use their warm bodies to make great cuddle companions.  Our house, wherever it is, will be filled with the love of animals.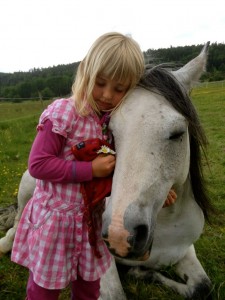 37.  "Being a superhero and a princess!" (We believe in the power of make believe and magic.  When not in the serious mode of having to be something parental wise, boring, and responsible, the mask gets shed quickly and out comes costumes and full on spontaneous role playing around our house.)
38.  "And I really like to eat candy!" (We view candy a a treat and never taken for granted, so we try to work it into treasure maps, reward systems, and during the holidays just that simple pleasure for no reason that makes us all smile.   Most of the candy and baked goods are all created from scratch around our home)
39.  "I love to swing!" (Whether it be the fabric swing we have indoors from IKEA, her outdoor swing on the tree, or anything this girl can find… she'll be hanging upside down or finding a way to make the most out of her desire to stay active.  She especially enjoys the magical feeling that comes from just being so present when you are swinging with no other thoughts on your mind.
40.  "I  loves all the Santa's" Julenisse is the Norwegian Santa and they are a joy to see around the house.  You'll have to research the legend of Julenisse by clicking the link.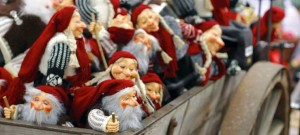 41.  "Stars and moons." (With her  her mom I having a deep appreciation for the cosmos, Gabi clearly picked up her love of the stars from somebody. She is always pointing out the moon and it's shape, and even at 4 recognizing certain constellations!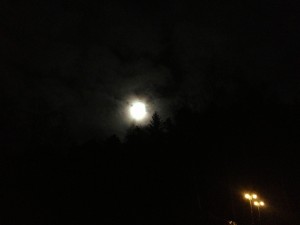 42. "I loves daddy's!" (Okay, I had to quiz her to get 11 answers so this one almost seems unfair but it's a gush moment for me nonetheless)
43.  "The Christmas Calendar" (A Norwegian tradition that has a couple different calendars they use for the kids where each day from Dec 1st to Dec 24th is represented. There is a pop out with something inside them and the hand made ones that are little stockings for each day of the month from Dec 1st to December 24th where they find one little treat through the holidays. I've learned so much being away from my home country and how it's celebrated in a very different fashion in many ways, and others quite parallel.  Jule celebrations actually go back to the Vikings and winter solstice celebrations. With it being so dark and so cold this time of year, traditions go back to their celebrations that the light was now coming in the future! The darkest part of the winter is now over.  Jule is a very festive, family oriented time today in Norway with subtle decorations, creative holiday markets and unique dishes)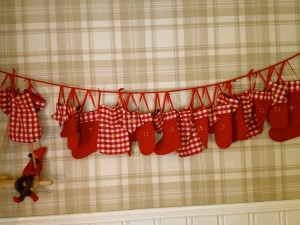 44. "Hello Bunny!" (Her favorite doll  she has by name is a mixture of a bunny and Hello Kitty that we made for her at build a bear.  Most of Gabi's time is spent with toys handed down from her mom or activities we create, but it's nice to see the joy on her face with this special connection she has with Hello Bunny)
 Sunniva's turn to give us 11 things that makes her happy.
Personally, I feel it is very important that each and every member of a family gets to do something that he or she loves individually. It's important to do things together, but also important to do things separately. When Gabi gets to do something she loves, that makes me happy too, and the same with Jared! In the holiday season, nearly everything makes me happy, because I love Christmas! The following 11 are just a selection of all the things that make me as a mom, wife and woman happy!
45.  The cold winter air… There is nothing that clears my head better than breathing in sub-zero temperature air!
46. The smell of Christmas. The spruce branches, the gingerbread cookies, the Christmas food… It all smells divine…
47. Reading to Gabi at night. Nothing like books about "nisser" and stories from "back in the day when your great grandma was young" to get in the Christmas spirit!
48. Cuddling up next to my husband and daughter under warm blankets when it's freezing outside
49.  Watching movies together… Love kids movies; they are some of the best movies out there – moral-wise, character-wise, and content-wise.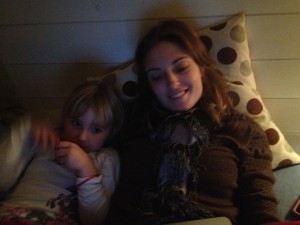 50. Snow. Still hoping, but it looks like there might be some coming next week… Keeping my fingers crossed!
51. The dogs make me happy. They are the most amazing creatures… They are somehow always cheerful, wagging their tails and wanting to play or cuddle. It's next to impossible to be miserable around a happy dog.
52. Reading a good book. Jared doesn't quite get how I can read the same book twenty times, but if I like it, I like it. And if I love it, I love it, and it's like seeing a really good friend again. Reading is a big part of the holidays for me, and the best present anyone could ever give me would be a book!
53. Watching cartoons with Gabi. Especially the ones I used to watch as a kid! Brings back good memories.
54. Dance with my husband. I'm not a good dancer, but Gabi really enjoys watching us dance, and I love to be close to him, so hey – it's all good!
55. Music… There's music out there to match any mood, so there's always music to listen to! For the holiday season, I love the old classics… Gets me in the Christmas spirit for sure!
56. Stable time. That's my meditation time, where I can find peace and just be me. It's extremely valuable to me, and a necessity if I am to function normally.
I have to agree with Sunniva that the importance of balance is vital for the harmony of our family not just during the holidays, but all year.  Time together, time alone, keeping the family environment at home in balance is easiest when we are all in some way getting to experience things in life that make us grateful to be alive!
Being away from home this year and not yet into the full holiday motion here I had to reflect a bit on past, present, and future for my 11.
57.  Morning coffee time- For me this is a sacred ritual that goes beyond waking up every day.  There is something magical about the first couple of cups of coffee, the quiet readings I can do, and during the holidays coffee has always been a central point for us.  It's usually a "Who wants their name in the pot?" echo quite frequently during big family gatherings in the midst of the holiday season family madness.
58. Hiking- Being out in nature is something our entire family adores.  I love to be outdoors and moving, and our family hikes are the most special.  Christmas needs that cold and snow filled energy in the air to feel as special as the storybooks we grew up reading presented to us, so it's something I'm very grateful for this year.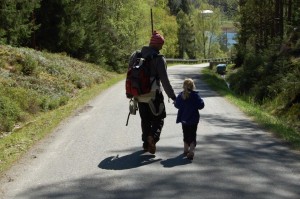 59. Singing to Gabi at bedtime- One of my favorite things to do now is to get to sing to Gabi at night.  She is learning to have unique and pretty amazing musical taste and gets to choose the song from my IPhone.  Seeing her fall asleep to a Dave Matthews song I've loved for 15 years is bliss.
60.  Laughter- I can personally be as intense as I can be funny so with the kids in the house it's the best time to let the child loose.  We laugh as a family until we cry. Sunniva and I, along with Gabi will laugh together a lot. We're a family who sheds tears together, laughs together, and makes sure it's a safe place to "feel" together.  Laughter is the best medicine and we make sure to never take ourselves too serious.
61.   Food- Whether in the US with a spread of sweet potatoes, turkey, ham, amazing homemade rolls and dressing, or the unique dishes I've tried so far in Norway with the main one yet to be tasted that is served on Christmas Eve I'm a huge fan of not just the food, but how it unites the family together.  Politics, religion, current events aside…good food is something that makes everyone smile!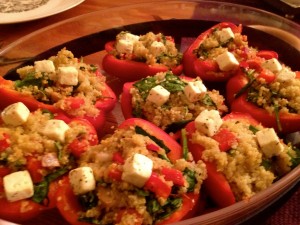 62.  The decorated house- I think the process of putting out the tree and decorations is going to be an exciting new tradition with our family next year.  Both Sunniva and I will be for the first time establishing some traditions that blend both Norwegian and American cultures.  One thing that is clear, the candles, the lights, and the energy that comes from the smell of fresh pine is a very special part of the holiday season.
63.  Laying next to Sunniva and talking about the depth of our life now and our dreams for the future as we fall asleep at night and wake up in the morning. It's a special feeling to have your best friend be your wife.
64. Watching Gabi do a new activity by herself.  During this window of time she is changing so fast everyday, to see her do little things like figure out how to open a big juice bottle and pour it, put it back right is a treat.  Having her show us her breakfast sandwich she made on her own (with a little too much butter, but it was still so sweet to see) She is now singing songs, and dancing better every day! She's a problem solver and a keen observer and I learn so much by watching her learn how to do things on her own.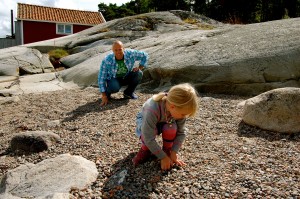 65.  Painting- With the candles and dark days approaching we love to paint as a family.  The collection Gabi has already is astonishing and we all have fun getting in our painting clothes, putting on some laid back music, and expressing!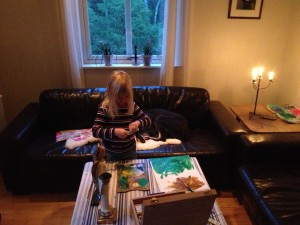 66.  Love- I think the most important message we can give to our children and to each other is to create a home where love is sincere, authentic, and lots of it. We all hug more than I've hugged in my life. With a house as lively as ours we have a lot of emotions, but when the backdrop is love you can't go wrong.  The holidays, this year in particular, as we plant our roots as a new family with a baby on the way has given me a deep feeling of gratitude and love that I never knew how strong it could be.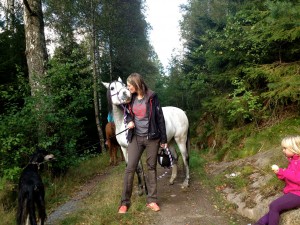 Now be sure to check out the first 33 three at Angeliquefelix.com and 67-100 at PlayDrMom and the final one is left up to you! We hope to get responses from you about what makes your home the most special this holiday season.
Thank you for joining us on this collaborative ride we've taken exploring topics of Love-Soulmates, Becoming a Parent, and Creating a Family.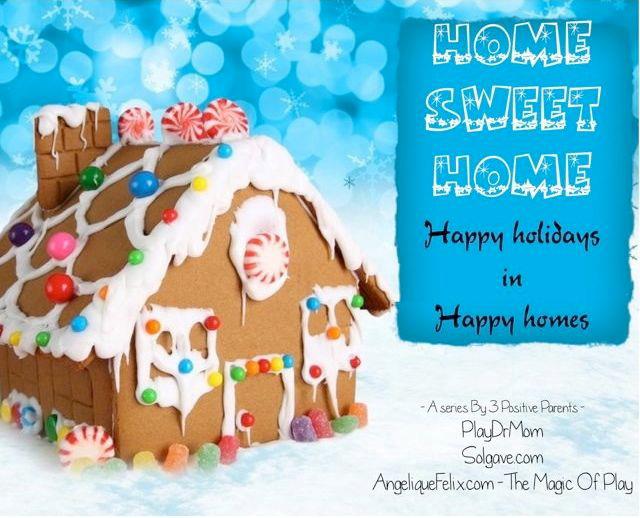 Introducing – 'Home sweet home' – A collaborative writing series that explores parenting through the holidays, and how we can create a loving, happy home.  (series)
My writing partners Angeliquefelix.com  & PLAYDRMOM want to create some holiday excitement for you and your family!
Not because we' ve found the key ingredient for what happiness in the home means, we are sharing very real perspectives of families that have both good and bad days.   But we not only have a deep belief in our families, but value a life of play, love,  and connections to each other.   Never losing sight on what matters most, that happiness around the holidays is built on a foundation of things that you cannot buy with money, but experiences, laughter, and love that have no price tag.
In the coming weeks as we  approach  Christmas, we   look forward to sharing some hands on,  real life experiences on the following topics with you:
Monday 12.11.2012: Love – soulmate
Monday 19.11.2012: Becoming a parent
Monday 26.11.2012: Creating a Family
Monday 3-12-2012: 101 ways of staying Happy
The series will be brought by you by three blogging parents:

AngeliqueFelix.com – The Magic Of Play is on a mission to bring play back in daily lives through bilingual songs, movement & creativity. Angelique teaches 0 to 6 years old in Italy, but comes from the Netherlands. She is a single mom loving passionately her only daughter Chanel every day. And she thinks it's strange to write about herself in the third person.

PlayDRMom is a mother of 2 and a clinical psychologist specializing in children and play therapy. Her blog is dedicated to promoting the importance of play and strengthening relationships with children.

Solgave.com is more than a blog, it's a unique philosophy of life shared by Jared, an American now living in Sweden, and his wife Sunniva originally from Norway, and her 4 year old daughter Gabi, as they navigate the waters of life by focusing on the core elements that define them. Nature, animals, families, travel, healing, and overcoming obstacles are some of the things they share with passion.
Please follow and like us: