18 Days till Flight – Pace, Balance, Intensity, and Organization..
This is my first year to explore the NanoWrimo concept, and it came at me right before they started the month long challenge. The goal of this amazing project is to use the month of November to write a novel. It does not have to be pretty, many don't have an outline, and yet many do prepare well crafted outlines, but most writers involve themselves in this unique writing experiment and through the course of the month you'll find something to cull out. Maybe short stories, maybe blogs, maybe even a book!
50,000 words in one month, community support, peer support, and the challenge and pressure to keep writing when you are tired, or sick, or uninspired is really a beautiful thing.
For me, the timing came during a massive shift personally, spiritually, physically, geographically, and on top of that, the final month of closing out a business we started 3 years ago which comes with emotions itself, and the final work details before the handoff is 100% done to the new owners.
I leave in 18 days, and that could really overwhelm me if not for the fact I'm so busy the next 5 days I can't think much about it, except…. I'm pretty good at math and 18-5 = 13.
Yeah…that's under two weeks. Oye'…
This apartment needs liquidated.  Goodwill will get some clothes and things, selling some other things, returning some items, finding what in this load of papers and books I need to keep, bring, and where to store the rest.
Then the cleanup stage. I will clean this unit up as if I'm not coming back although I've hopefully got that option if some strange series of incidents occurs. I'm paying through December and can PayPal Jan 1 if that felt right, but honestly, I think all my chips are going in.
It'll take time to learn the language, immerse myself in the culture, find work (applying for jobs now and thinking of ideas on the creative at the same time) and take baby steps into the broader long term vision of life. Remember, it's now about channeling the turtles I collect representing what I always aspired to be.
I have wonderful support, and am on a path of recovery that requires I continue to take action every day and then release those results up the Universe.  I've found that to be wicked cool up until this last period when surrendering control of outcomes becomes essential.
This stage there are so many practical things to not forget you sort of have to balance thinking your way into not forgetting something big, and also getting tiny doses of self love and seeing this as a step in a very long race.
I'm writing this just to get some words in to be honest, and help me see where I'm at. Writing is and always will be therapeutic, it helps me to reconcile my thoughts, to see where I'm at, where I'm going, and often things get channeled through me that I wasn't sure how to express yet.
I look forward to my time on the bike today, and really look forward to seeing a horse named Dozier. Being in a state of balance and being around these animals I realize how much I love helped me get another nudge from the universe about where I'm at.
My throat is getting sore, family is sick back home, people I work with have been sick, and I just cannot afford to get sick…so I'm really striving to balance the enormous emotional and physical weight that comes from moving across the world for my fifth time and smile along the way.  Music, meditation, and good food and lots of water!
Five times I have technically packed to sort of move across the world.  Well, this is the fifth, and my god do I want to say it's my last. I'm 42 years old, with a lot of life in front of me and I want those experiences to be vacations, hikes, biking, seeing my children in plays, coffee with people you adore, not packing, sorting, and going through the process that I will be doing again.
Did I say this fifth time will be in 5 years? It was this time in 2011 that began a new book, and that book has had chapters. A new chapter for me began a few months ago, another a year ago, another will begin when I land in a few weeks. Same book, lots of chapters.
Or is this a new book? Hmm, I need to think on that.
But that's too much moving, even the young and strong and pliable would get weary moving physically that far and that often and just the psychological aspect of uprooting for 5 times in 5 years is something to consider. I want to be settled. Let me say that again, a gypsy heart is craving finding my home for a longer period of life.
I have learned what I value most in life, this writing project has taught me to see what I value so much in life.
It's showed me how much growth has happened, I have had some really proud moments of self evolution, I've had some horrendously tough times as well.  Tough times force one to make decisions, to grow or go….to die or live.
Struggles are by nature not a bad thing, it's how we learn from them that makes them good or bad in the big picture.
So I'm now past 16,000 words and I'll have a good shot to hit close to 30,000 and next year with a year of life abroad (projecting a bit) along with another year of positive growth and changes, I will improve for sure and hopefully complete the NanoWrimo challenge.
Maybe just maybe …that's my first book to publish.
Life is less about that right now, and down to some very simple things I need to see like oxygen.  Recovery, self care, continued spiritual evolution, being a mindful and present father, fluent in Norwegian (or massively improved language) and securing some work that gets me in the system of either Norway or Sweden.
I have total faith this will happen. Applied for one job I feel I know I would get if my language was there, and it's a good job…something tied to my 20-year career.  But I'm not after that job per se', I'm seeing the race as long, the goals as simple, and realizing if I do my footwork today, the rest will fall into place.
There is a saying in recovery,  the Universe laughs at plans.  You see, we don't always get the results we think we should get, but we always get what we need. (if living in a recovered a mind)
This is not a cheesy fate sentence, it's more Buddhist inspired and how I philosophically like to see my life today. I know this for sure, from the moment I wake up to the moment I go to bed I have a contract with the Universe, an agreement. And if I honor that then any things I am working towards, goals if you will, will all work out.  If not something I predicted or even like initially, there lies the new growth.
You see, I don't grow as much in my country of origin, I don't grow as much living alone once I'm in balance, growth happens from relationships, peer relationships, confronting our past, and in my case now living abroad creates certain challenges that you can see as challenges or amazing opportunities to keep rising above your former self.
If there is a race we call life, there is no winner or loser but I want to be a very improved person who sees spiritual evolution as the primary goal of living in this human shell.  If not a spiritual person, call it a manifesto to keep developing personally, to keep repairing the web of consciousness we all share by doing the five things I wrote out on paper in a cabin in Oklahoma in late 2011. This blog references all five (Keeping it Real) things I referenced in a new code of living late 2011. I was missing one though. A sixth…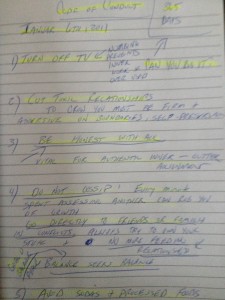 Aha, I found that image of the paper from 4 years ago.
No Gossip – If you have thoughts about another person that are not elevating them spiritually, using it to make one feel better, condemn, etc. I think we tear holes in the fabric of the web. My karma, my repairs are two fold. My reactions to others, and my direct life.  So I can repair the web in two ways, living a new life guided by moral principals and ridding the desire to compare myself to others or even talk about them without talking to them.
No processed foods- Quite simply…we are what we eat, drink, and breathe in.
No TV. – I have stuck to this since I committed in 2011. For one year there wasn't even Netflix, but now I do dabble online but watch no typical TV and that came after a massive TV addiction in the states.
Nature Immersion – I believe that nature forces balance in us, can heal, is a very holistic and powerful way to stay spiritually, physically, and mentally in tuned with the world.
Toxic Relationships – I believe in Jim Rohn's rule of 5 and it's vital to surround yourself with people who share values you want to live by, and I hope aspire to become. I think we can limit our own growth massively by hanging out or exchanging energy with anyone that can hold onto bitterness, envy, greed, gossip, condemning, whatever traits you feel are spiritual unhealthy or tear the web a bit…for me at least, I want to engage with people repairing the web, FIXING THE WEB, so it's vital I surround myself with those people.
I knew this would be important but I did not put it down yet because I was not ready to go all the way. Chemical free life. I had stopped A, B, and C but rationalized legal ways to not feel and that created problems and led to inauthentic, although improved, living for a period of a few years and it certainly did not allow me to patch up the web as efficiently as I can today.
So I will rewrite my "code of ethics" and my own sort of manifesto because today there are no secrets, no hidden agenda, no thinking "I wonder if I should be doing this" because I've come into the light, not hiding anymore.
Now I need to eat and prepare for the next step and yay for me, 2000 words closer to whatever I reach in the end of this challenge.
It's a lesson in not being perfect, gently pushing yourself in areas you know you love, and listening to that voice inside that comes out as you see the words fall on to the page.
I'm blessed today.  Lucky to be alive, and happy to know deeply what I love about my life, what I don't want to lose, what I'd like to gain back, and mainly that I love myself.
"Be kind for everyone is fighting some kind of battle." Plato
Please follow and like us: